2022 in review: #BUIDL never ends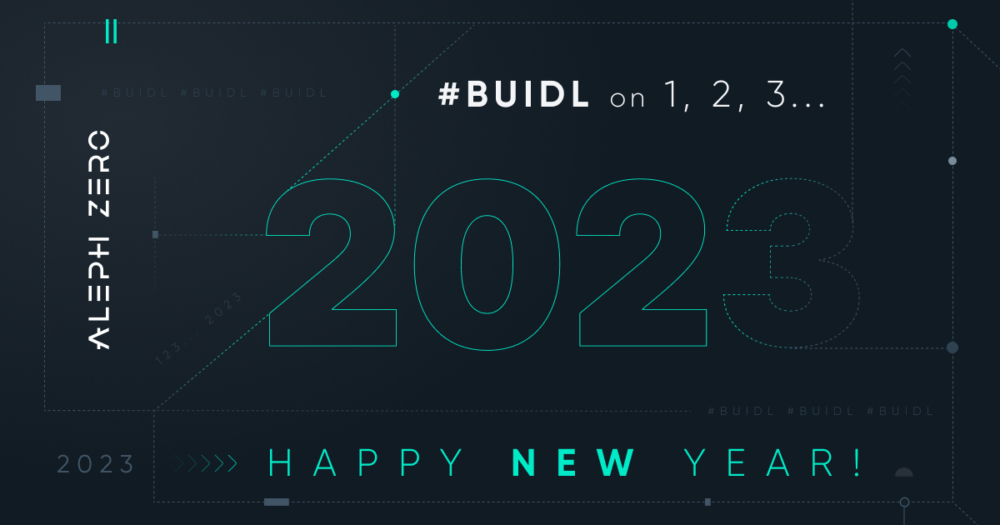 Throughout 2022, the Aleph Zero team has been focused on laying the foundations for the growth of the network: from smart contracts to community validators to the grant program, this is just a beginning for all of us.
2022 was the year of preparations. With the mainnet launched and Aleph Zero being available on the broader markets, the team immediately got to work on other crucial components of the project, as well as ecosystem projects and partnerships. 
We've welcomed a number of partners in the first quarter: AngelBlock, Gatenox, and CLST were among the initial ones communicated publicly. To accommodate the needs of Aleph Zero's development teams, we've established a Developer Relations team and grown more than twice in both headcount as well as the community members. As of today, we're actively and directly working and supporting more than 20 different external development teams building their use cases on top of the network.
The Summary
Throughout this year, we've ensured that AZERO is available not only via azero.dev, but is also accessible via SubWallet, Nova Wallet, Talisman, or Fearless Wallet. You can also use some of the third-party wallets to stake your AZERO with one of the community-run validators. With Ledger integration underway and a MetaMask Snap being developed, you will also soon be able to use industry-standard solutions to interact with your coins. In addition, Aleph Zero is working on its native wallet to be more user-friendly.
We've participated, delivered keynotes, and run workshops at almost 20 different conferences throughout the world: from more business-oriented gatherings to ones focused solely on development. Aleph Zero has been named a winner of the European FinTech Hackcelerator (organized by Accelpoint) and a finalist of the Global FinTech Hackcelerator (organized by the Monetary Authority of Singapore).
We've deployed the first iteration of the carbon offsetting program to make the network not only carbon-neutral, but carbon-negative.
We've launched the community validator program, retroactive airdrops for testnet participation, and ongoing airdrops for running your testnet node. Thank you all for supporting us in shaping the fairest approach.
We've reaffirmed our commitment to the importance of compliance regulations and maintaining a dialogue with the regulatory bodies. Throughout the entirety of its development, Aleph Zero has cultivated an approach that is regulatory-friendly and progressively minded toward complying with any existing legal frameworks, as well as preparing for the ones that are being drafted by relevant authorities.
We've been featured in the most renowned industry media such as CoinDesk, Cointelegraph, The Block, Decrypt (did you know that MetaMask featured the Aleph Zero Snap on their blog?), and also secured a number of op-eds in the conventional press (The Drum, Sifted, or Entrepreneur to name a few).
AZERO launched on its first centralized exchange, MEXC Global, this year. It's now available on multiple different markets such as Huobi Global, Gate.io, Uphold, Bitrue, Chainge, or KuCoin.
Most importantly, we've welcomed a number of amazing new community members: there are over 150,000 of us across all of the Aleph Zero channels. We couldn't be more thankful for your support in 2022; this wasn't an easy year for the broader crypto industry. Our hearts go out to anyone affected by the fallouts of Luna, 3AC, FTX, Celsius, and others.
The Ecosystem
Please know that Aleph Zero believes in #BUIDL markets regardless of the economic situation. The truth is, nobody knows what 2023 will bring from the macro perspective, and we'd much rather focus on continuous development rather than predicting the future.
We've been quietly onboarding different teams to the ecosystem throughout 2022. We're concluding the list of the first wave of recipients of the upcoming grant and ecosystem funding program—the level of sophistication, talent, and dedication within our builders' community is absolutely stunning. We're doing our best to support their efforts from a finance, development, operational, and marketing perspective. So far, we've publicly welcomed teams working on, among others, DRKVRS, Interlock, AZERO Domains, CLST, Gatenox, AngelBlock, ArtZero, OpenBrush, or MetaMask Snap. Among the products that have not been publicly presented yet, you'll soon be able to meet teams seeking to deploy:
an innovative lending protocol,
a toolkit for building DAOs with private voting features,
a product focused on surprisingly user-friendly way of transferring coins to one another,
a DLT-based pilot solution for an element of local banking system in one of the South-East Asian countries, 
a fiat / crypto ramp integration,
and more!
Moreover, there are a number of ecosystem support partnerships we've had in the works for quite a while. Note that the level of support that Aleph Zero seeks to provide goes beyond financial assistance; both the core team as well as the ecosystem partners will go above and beyond to help you succeed.
Most of the use cases mentioned above will use Liminal, which we've successfully showcased for the first time during the Next Block Expo hackathon in Berlin. Our goal here is to ensure that Aleph Zero is not yet another network full of copy-and-paste solutions—we seek to build the most efficient, reliable, and privacy-capable platform out there. Otherwise, why even bother?
The #BUIDL mode
For us, 2022 was the year of getting ready for what's to come. We've bulletproofed the network, erased all technical debt, had the opportunity to grow the team twice and begun to onboard teams working on bold, innovative, and ambitious applications. While delays did happen with smart contracts and the validator program, we couldn't be more excited about what 2023 will bring. We are aware that some of you are getting impatient, and we appreciate you voicing your concerns. It always helps to make better, more educated decisions.
Thank you all for your continued trust—this goes out in particular to our community, the Aleph Zero builders, validators, supporters, and partners. It truly means everything to us.
Let's continue to #BUIDL.