Multiple $50,000 Reward Tickets in Aleph Zero's and Immunefi's Bug Bounty Program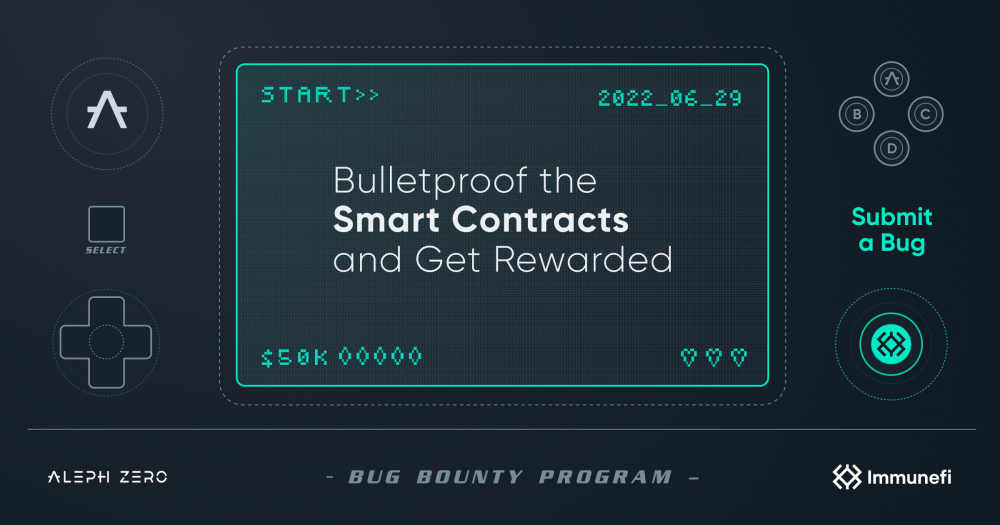 Aleph Zero has decided to partner with Immunefi to deliver a bug bounty program dedicated to seeking out vulnerabilities that may hinder smart contract deployment. Help to make the network more secure!
The bug bounty program has been designed with the help of Immunefi to reward white-hat hackers who will assist us in finding the weaknesses that can hinder Aleph Zero's development. These invaluable insights will permit us to build a more secure network and safeguard both the Aleph Zero blockchain and its user base.
👉 Don't wait. Start looking for bounties!
Rewards by threat level
Rewards are distributed according to their perceived harmfulness based on the Immunefi Vulnerability Severity Classification System V2.1. This 5-level scale identifies key vulnerabilities for websites/apps, smart contracts, and blockchains/DLTs, focusing on the impact of the threat.
Blockchain/DLT
Critical: up to 50 000 USD
Websites and Applications
Critical: up to 10 000 USD
All web/app bug reports must possess a PoC with an end-effect impacting an asset-in-scope in order to be considered for a reward. All Blockchain/DLT bug reports require a PoC to be eligible for a reward. Explanations and statements are not accepted as PoC and code is required.
Payouts will be handled by the Aleph Zero team directly and will be denominated in USD. However, payouts are done in USDT, AZERO, ETH, and BTC, with the choice of the ratio decided upon by the Aleph Zero team.
The Scope of the Program
The table above lists the assets that are considered as in-scope of the bug bounty program.
If a team discovers a vulnerability that is outside of the scope of the program they are encouraged to submit it to the Aleph Zero team for consideration.
Impacts in Scope
Only the following impacts will be considered within this bug bounty initiative. All other impacts are not considered as in-scope, even if they affect the assets listed in the scope table.
Blockchain/DLT
Critical
Network not being able to confirm new transactions (Total network shutdown)
Unintended permanent chain split requiring hard fork (Network partition requiring hard fork)
Direct loss of funds
Permanent freezing of funds (fix requires hardfork)
RPC API crash
High
Unintended prolonged chain split (Network partition) that does not require hard forking to recover from
Transient consensus failures
Medium
High compute consumption by validator/mining nodes
Attacks against thin clients
DoS of greater than 30% of validator or miner nodes and does not shut down the network
Low
DoS of greater than 10% but less than 30% of validator or miner nodes and does not shut down the network
Underpricing transaction fees relative to computation time
Websites and Applications
Critical
Execute arbitrary system commands
Retrieve sensitive data/files from a running server such as /etc/shadow, database passwords, and blockchain keys(this does not include non-sensitive environment variables, open-source code, or usernames)
Taking down the application/website
Taking state-modifying authenticated actions (with or without blockchain state interaction) on behalf of other users without any interaction by that user, such as, changing registration information, commenting, voting, making trades, withdrawals, etc.
Subdomain takeover with already-connected wallet interaction
Direct theft of user funds
Malicious interactions with an already-connected wallet such as modifying transaction arguments or parameters, substituting contract addresses, submitting malicious transactions
High
Injecting/modifying the static content on the target application without Javascript (Persistent) such as HTML injection without Javascript, replacing the existing text with arbitrary text, arbitrary file uploads, etc.
Changing sensitive details of other users (including modifying browser local storage) without already-connected wallet interaction and with up to one click of user interaction, such as email or password of the victim, etc.
Improperly disclosing confidential user information such as email address, phone number, physical address, etc.
Subdomain takeover without already-connected wallet interaction
Medium
Changing non-sensitive details of other users (including modifying browser local storage) without already-connected wallet interaction and with up to one click of user interaction, such as changing the first/last name of the user, or enabling/disabling notifications
Injecting/modifying the static content on the target application without Javascript (Reflected) such as reflected HTML injection or loading external site data
Redirecting users to malicious websites (Open Redirect)
Low
Changing details of other users (including modifying browser local storage) without already-connected wallet interaction and with significant user interaction such as framing leading to modifying the backend/browser state (must demonstrate impact with PoC)
Any impact involving a publicly released CVE without a working PoC
Taking over broken or expired outgoing links such as social media handles, etc.
Temporarily disabling user access to the target site, such as locking up the victim from login, cookie bombing, etc.
Out of Scope & Rules
The following vulnerabilities are excluded from the rewards for this bug bounty program:
Attacks that the reporter has already exploited themselves, leading to damage
Attacks requiring access to leaked keys/credentials
Attacks requiring access to privileged addresses (governance, strategist)
Smart Contracts and Blockchain
Incorrect data supplied by third-party oracles

Not to exclude oracle manipulation/flash loan attacks

Basic economic governance attacks (e.g. 51% attack)
Lack of liquidity
Best practice critiques
Sybil attacks
Centralization risks
Websites and Apps
Theoretical vulnerabilities without any proof or demonstration
Attacks requiring physical access to the victim's device
Attacks requiring access to the local network of the victim
Reflected plain text injection ex: URL parameters, path, etc.

This does not exclude reflected HTML injection with or without javascript
This does not exclude persistent plain text injection

Self-XSS
Captcha bypass using OCR without impact demonstration
CSRF with no state modifying security impact (ex: logout CSRF)
Missing HTTP Security Headers (such as X-FRAME-OPTIONS) or cookie security flags (such as "httponly") without demonstration of impact
Server-side non-confidential information disclosure such as IPs, server names, and most stack traces
Vulnerabilities used only to enumerate or confirm the existence of users or tenants
Vulnerabilities requiring un-prompted, in-app user actions that are not part of the normal app workflows
Lack of SSL/TLS best practices
DDoS vulnerabilities
Feature requests
Issues related to the frontend without concrete impact and PoC
Best practices issues without concrete impact and PoC
Vulnerabilities primarily caused by browser/plugin defects
Leakage of non-sensitive API keys ex: Etherscan, Infura, Alchemy, etc.
Any vulnerability exploits requiring browser bugs for exploitation. ex: CSP bypass
The following activities are prohibited by this bug bounty program:
Any testing with mainnet or public testnet contracts; all testing should be done on private testnets
Any testing with pricing oracles or third-party smart contracts
Attempting phishing or other social engineering attacks against our employees and/or customers
Any testing with third-party systems and applications (e.g. browser extensions) as well as websites (e.g. SSO providers, advertising networks)
Any denial of service attacks
Automated testing of services that generates significant amounts of traffic
Public disclosure of an unpatched vulnerability in an embargoed bounty
About Immunefi
Immunefi launched on December 9, 2020, as a bug bounty platform focused on Web3 and smart contract security. We provide bug bounty hosting, consultation, bug triaging, and program management services to blockchain and smart contract projects.
Bug bounty programs are open invitations to security researchers to discover and disclose potential vulnerabilities in projects' smart contracts and applications, thereby protecting projects and their users. For their good work, security researchers receive a reward based on the severity of the vulnerability, as determined by the project affected.
In 2020 alone, hacks and scams cost the Web3 community over $238m, and bug bounties can prevent those hacks from happening. Bug bounty programs surface vulnerabilities so they can be fixed before they get exploited in malicious hacks that destroy projects and ruin reputations.
May the Hunt Begin!
Now that we've gone over the rules it's time to initiate the bug bounty program! We are excited by the opportunities presented by this initiative and hope to use this experience to build a more secure blockchain ecosystem.
👉 Don't wait. Start looking for bounties!