Aleph Zero Monthly Update: Mainnet smart contracts launched, ink!ubator, and more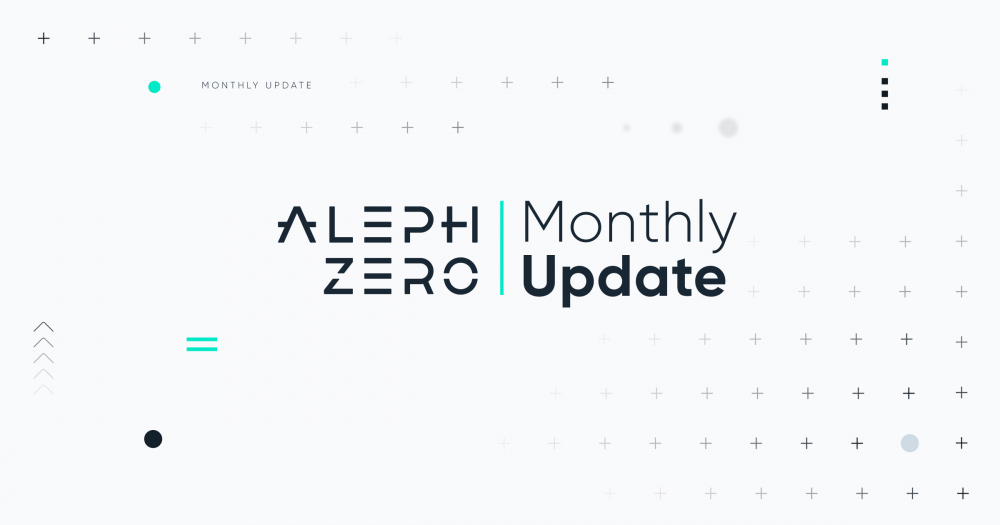 March brought us the long-awaited launch of ink! 4.0 smart contracts on the Mainnet, over 50% of staked supply nominated to community validators, and many conference participations.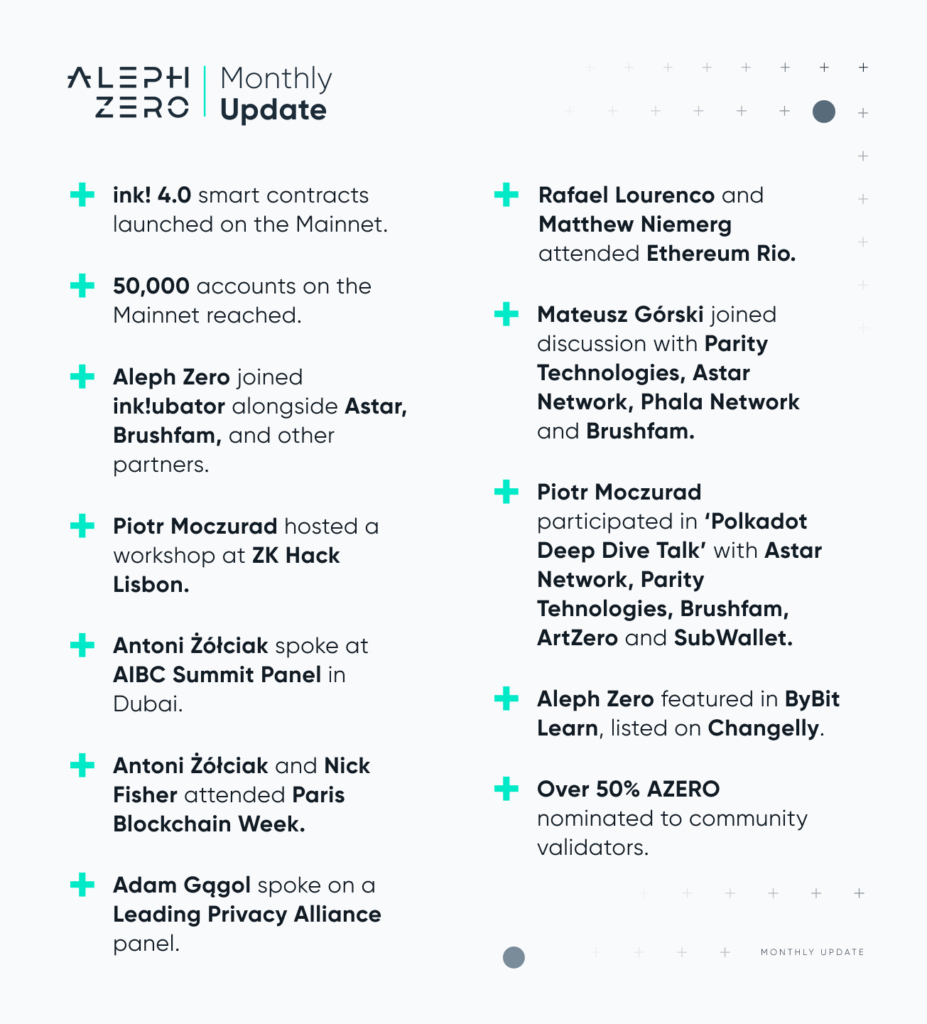 Ink! 4.0 smart contracts are live on the Mainnet
The highly anticipated Mainnet 10.0 update is live! This update brought ink! 4.0 smart contracts to the network, enabling developers to launch their applications on the Mainnet. This is undoubtedly the most significant milestone for the project since the launch of the Mainnet. The next chapter for Aleph Zero has just begun–devs, we can't wait to see what you have been building!

It's also worth mentioning that some community projects–such as ArtZero–were so well-prepared that they have already launched in March! Congratulations!
50,000 accounts on the Mainnet
In March, the number of accounts on the Aleph Zero Mainnet broke 50,000! We are very pleased with this achievement, as it reflects a growing interest in the Aleph Zero network and projects built on top of it. Thank you to everyone who has used the network!
Community Validators 'Flippening'
In the second half of March, the network reached another huge milestone – over 50% of the total staked AZERO is now nominated to community validators. This was a joint effort across the entire community. By increasing the commission rate on Foundation nodes, we incentivized enough nominators to make the switch!
We would like to thank our phenomenal validator community, who have been exceptionally active and helpful – we couldn't have done it without you!
Learn more about this milestone
Aleph Zero joins ink!ubator
Aleph Zero has entered a joint initiative to stimulate the growth and adoption of the ink! ecosystem in partnership with Astar Network, the Web3 Foundation, Parity Technologies, Phala Network and 727 Ventures. This initiative is funded by Polkadot Treasury and seeks to support the growth of ink!-based ecosystems in a few different key areas. It is set to launch in Q2 of 2023. We encourage interested builders to take advantage of this incredible opportunity!

Learn more about this initiative
Piotr Moczurad at ZK Hack Lisbon
Towards the end of the month, Piotr Moczurad hosted a workshop at ZK Hack Lisbon hackathon! In this workshop, Piotr introduced a new feature of Liminal called Shielder, designed to keep PSP22 tokens private. Thank you to everyone who attended the event!
Antoni Żółciak at AIBC Summit in Dubai
On March 15th, Antoni Żółciak spoke at a panel at the AIBC Summit in Dubai about the importance of user experience and privacy in different blockchain applications.
Antoni Żółciak and Nick Fisher at Paris Blockchain Week
Antoni Żółciak and Nick Fisher attended Paris Blockchain Week from the 20th to the 24th of March. Thank you to everyone who came up to chat!
The Leading Privacy Alliance Panel
Adam Gągol had the opportunity to join a panel with HOPR and Panther Protocol at the end of the month. The participants discussed why selective disclosure could be the solution to staying compliant while maintaining privacy when using a DeFi protocol.
Rafael Lourenco and Matthew Niemerg at Ethereum Rio
Aleph Zero Community Manager Rafael Lourenco and Matthew Niemerg were present at Ethereum Rio from the 27th to the 30th of March. He had many important conversations at the conference, including one with Ledger to discuss the integration of AZERO. Thanks to everyone who came up to have a conversation!
Dialogue with key ink! stakeholders
At the very end of the month, Aleph Zero Blockchain Developer Mateusz Górski participated in a roundtable discussion on Twitter named 'Why choose ink!'. The dialogue included key ink! stakeholders such as Parity Technologies, Astar Network, Phala Network and Brushfam.
Polkadot Deep Dive Talk
Piotr Moczurad also joined in on a discussion between Astar Network, Parity Technologies, Brushfam, ArtZero and SubWallet about strategies to onboard and support smart contract builders. The Twitter Space managed to attract 419 interested listeners! Thanks to everyone who tuned in!
Aleph Zero in ByBit Topics
Aleph Zero has been featured in ByBit Topics – the feature article explains many aspects of the project, including the network's unique features, progress thus far, and goals for the future. We thank ByBit for aggregating so much information into an accurate, detailed piece.
AZERO is now available on Changelly
AZERO—Aleph Zero's native utility coin—is now available to swap for 500+ other coins on Changelly.