Meet Aleph Zero: The Q1 2023 Events Schedule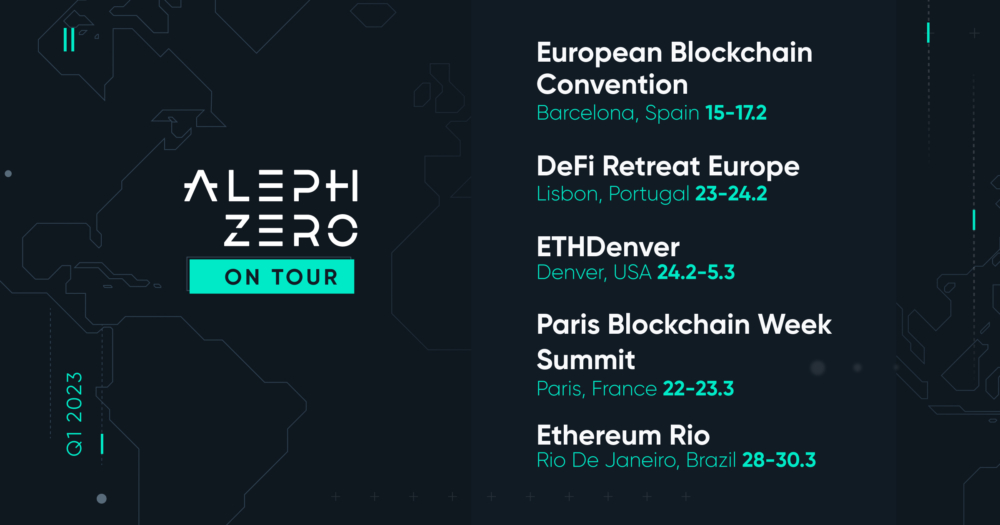 The first quarter of the year is off to a great start. The Aleph Zero team is attending a series of conferences that span from Miami to Barcelona. Let's look at where we are heading and what to expect!
Quantum Miami, Miami, USA 25-27.1

We started the year by joining Quantum Miami. The event put a spotlight on the up-and-coming trends within DeFi, Web3, NFTs, the Metaverse, asset taxation and protection, and much more.
Thank you for all the conversations and meetings we had during that time!
European Blockchain Convention, Barcelona, Spain 15-17.2

As gold sponsors of the most influential Blockchain event in Europe, we are excited to be starting off the month of February in Barcelona. This convention will bring together more than 3,000 crypto enthusiasts with over 200 speakers over 3 days. We will be hanging out with startups, investors, and developers who are building the future of web3 in the region.
Hear from our co-founders, Antoni Zolciak on a scaling, infrastructure, and security panel and Adam Gagol with a keynote presentation on February 17th. Lukasz Plewa from DRKVRS will also be sharing a panel on metaverse and gaming.
DeFi Retreat Europe, Lisbon, Portugal 23-24.2

We'll also be sponsoring the inaugural annual gathering for DeFi leaders and professionals in Europe. We cannot wait to join other founders, VCs, regulators, legal, finance, and web3 experts for two days at the magical Estufa Fria in Lisbon.
The event will have limited attendance and feature honest, off-the-record panel discussions and opinions that you might not find on other mainstream stages. Join us for an intimate networking event with Antoni Zolciak as one of the panelists.
ETHDenver, Denver, USA 24.2-5.3

We cannot wait to catch up with the community in Denver, Colorado for the largest and longest-running ETH event in the world. 2023 will be "the year of the Spork," the first year ETH Denver will be run by the SporkDAO, and we are excited to see what happens at this community-owned innovation festival.
The Aleph Zero core team will be there to support the event's goal to build and empower the web3 community. You'll find our very own Piotr Moczurad sharing a "safe and robust smart contracts in ink!" workshop during BUIDL week on March 1.
Paris Blockchain Week Summit, Paris, France 22-23.3

We will be joining one of the most important blockchain conferences in Europe, the Paris Blockchain Week. This time, it will be held in Le Carrousel du Louvre and is aimed at more than 10,000 attendees, over 400 speakers, and over 400 journalists.
The Paris Blockchain Week Summit is the key event around Paris Blockchain Week held between 20-24 March. It hosts great talks, exciting side events, and plenty of networking opportunities. We'll be happy to connect there to talk about use cases for Aleph Zero and potential partnerships!
Ethereum Rio23, Rio de Janeiro, Brazil 28-30.3

At the end of March, we'll be connecting with creators, builders, and thinkers in South America at Ethereum Rio. We are excited to engage with the 2,500+ web3 builder community in Rio de Janeiro and LATAM.
Join us to hear from keynote speakers and take part in panels, workshops, launchpads, and bootcamps. There will also be an open day for introductory talks for students and the general public.
Expanding the multinational community
The Aleph Zero community is as diverse as it can be, with big groups of members scattered in more than 20 countries. The goal of our event strategy is to be as approachable as we can be, introducing developers to the technology behind Aleph Zero and growing an even stronger community–wherever it is.
We'll be sharing details about the conference lineup for events coming later this year, so stay tuned and check the community page and the Aleph Zero social media channels for updates. See you around!