AngelBlock: Fixing What's Broken with Web3 Fundraising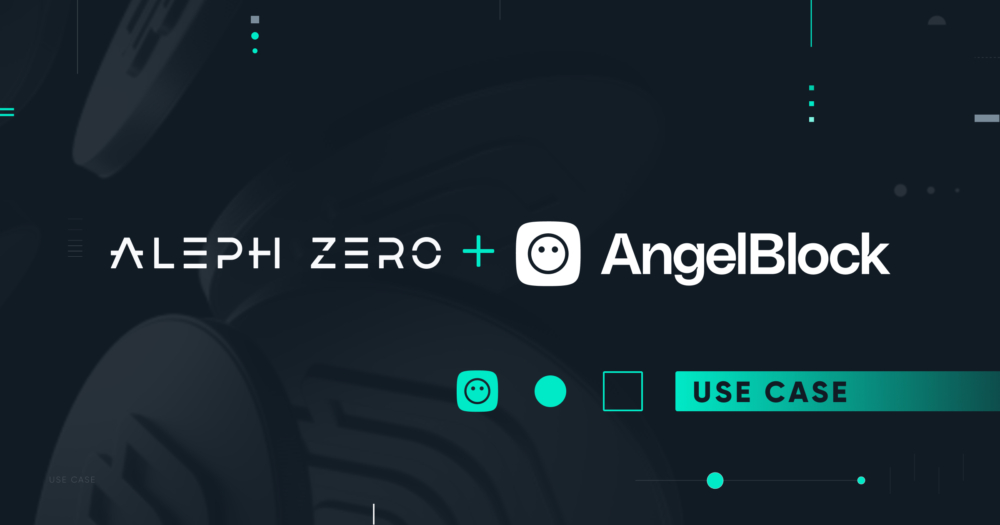 We have recently hosted the first Discord AMA to talk with Alex Strzesniewski about AngelBlock, a new fundraising protocol that is planning to use Aleph Zero. Here's a follow-up in case you've missed it.
In an AMA hosted by Antoni Żółciak, we had the opportunity to take a closer look at AngelBlock and talk with their CEO, Alex Strzesniewski. In this article, you'll find some of the quotes from that conversation to give you a first-hand insight into the project and dive into the problems it is trying to solve.
What does AngelBlock do?
Alex Strzesniewski: AngelBlock is a decentralized, non-custodial protocol that enables fundraising in a more transparent, decentralized, and democratized manner. Our solution is based on tech and offers various tools to make DeFi and crypto safer to invest in and genuinely crypto-native.
You've done some research on the Web3 fundraising problems. What's your take on that? What do you think is broken, and why?
AS: In 2021 alone, investors lost over 2.9 billion USD in exit scams, also known as "rug pulls", and they accounted for over 37% of all crypto-based scams. This shows quite vividly that investors are not protected well enough from bad actors. I'm not calling for regulatory protection here, although the lack of clarity could also lead to some projects just taking money and not doing anything post-raise.
On the other hand, we have startups, and lack of funding is still a leading cause of why they fail. So while we need to solve the investor protection issue, we also have to find a way for projects to get enough funding and make them succeed. Of course, there will always be risks connected with investing, but if we can mitigate them through using technology, that would already be a big win for the space and would show a way forward.
That's not the end of the story, though. The way in which fundraising is happening is also problematic when it's centralized. 20% of tokens from token sales are sent either to the wrong address or in the wrong amount–just because a human did it manually and made a mistake. Alameda was able to invest in multiple startups using the same capital–they just did VC double spending because they told teams they have to keep their funds on FTX.
This is why we're preaching about using this great technology that we have–blockchain–to actually up our game with crypto fundraising.
How can blockchain change fundraising, and what's the role of AngelBlock here?
AS: AngelBlock addresses these problems one by one to better protect startups and investors, effectively creating a healthier environment. Our solution is that in AngelBlock, fundraising is non-custodial, decentralized, and smart contract-based.
When a project lists on AngelBlock with a fundraising goal, all the money they'll be getting is locked in a smart contract, and from there, the rules apply to both investors and startups. This means that everything in there is verifiable, and it's non-custodial.
The projects can get the funds based on a milestone-based model where they commit to delivering certain parts of the project or a time-based model. In the milestone-based model, once the deliverables are there, investors will vote to agree that the criteria are met–if everything is all right, the funds are released. If not, they can get them back.
The time-based model is simpler–funds will be unlocked at certain intervals, although still–if something is not right with the project, they can vote on stopping further unlocks.
In both cases, the voting power is represented by an ERC1155 token that's value is based on the number of funds locked. ERC1155 is divisible, adding additional features for the holders, but you get the core of what we're doing here.
You've mentioned the Ethereum ERC standard, so what's the role of Aleph Zero in it?
AS: I'm a big believer in Aleph Zero and we strongly support the project, making it the advised go-to chain for projects that come to us with Web3 product ideas. However, similarly to you, we believe in a multichain world where many blockchains can exist and fulfill different purposes. At the same time, we cannot overlook that Ethereum is the single largest platform for dApps. If we didn't try to address the mentioned problems in the biggest market where the issues lead to the most significant losses, we'd be doing something wrong.
With that being said, we also want to embrace different blockchain solutions, and integration with Aleph Zero is at the top of our priority list. It brings an exciting use case for us: private fundraises that could be attractive to enterprises that don't want to disclose the investment but would benefit from our smart contract-based protection.
What's the progress of AngelBlock so far, and what's the way forward?
AS: We have just completed the Token Generation Event, with the IDO launched on Uniswap v3 on February 16th. This will allow us to distribute the token to an even larger number of users. In the AngelBlock protocol, gas is paid in our native token, THOL, which makes this distribution and easy access to all even more crucial.
We're currently heavily focused on integrating the Aleph Zero blockchain into our protocol, which is no easy task, but it's one of our key deliverables for 2023, and we want to make the integration as native and seamless as possible.
Our next developmental milestones that are a bit closer in time are deploying NFT and THOL staking contracts, as well as the THOL gas functionality, which should all be ready in April of this year.
If you'd like to know more about AngelBlock and follow their progress, make sure to visit their website and subscribe to the social media channels!

Telegram | Twitter