Uphold Lists Aleph Zero's AZERO, Enables Trading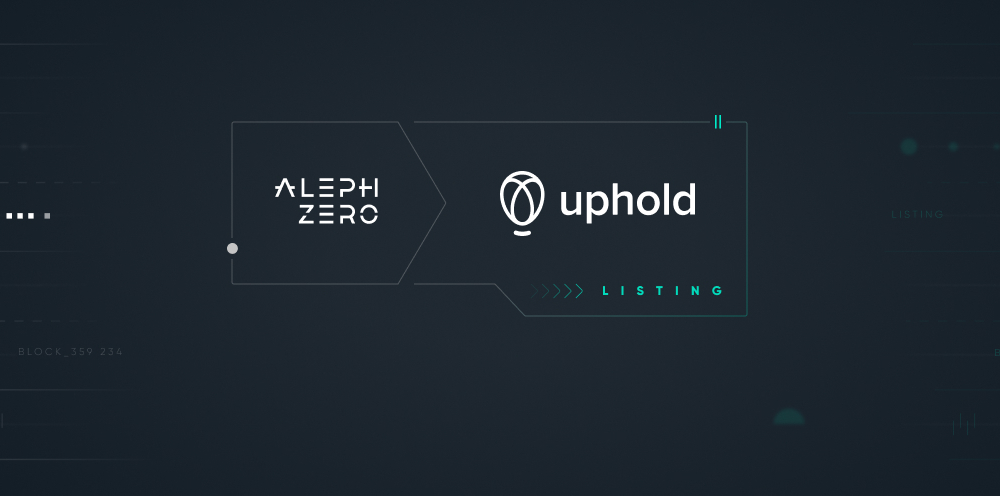 The utility coin behind Aleph Zero, AZERO, is now available for trading on Uphold—a multi-asset digital money platform serving over 10 million users.
Uphold debuted in 2015, offering financial services to a global market, marking its presence in over 184+ countries, and offering over 10 million customers access to over 130+ currencies (both traditional and crypto) and various digital commodities. Over the past few years, Uphold has facilitated more than 4 billion USD in transactions, priding itself on facilitating frictionless foreign exchange and cross-border remittance for a global audience.
Uphold's unique proposition includes an 'Anything-to-Anything' trading experience that allows customers to trade directly between asset classes with embedded payments. This innovation is paving the way for a future where everyone has access to financial services. Built on a core of proprietary technologies and e-money apps, Uphold aims to ensure a future where people and businesses around the world have access to safe, transparent, fair, and affordable financial services.
Core Values Shared by Uphold and Aleph Zero
We are thrilled to see $AZERO listed on Uphold, as their commitment to a transparent, secure, and affordable financial world is closely aligned with the values Aleph Zero wishes to represent. The privacy-enhancing features that lie at the heart of the Aleph Zero consensus protocol conduct a delicate balancing act of guaranteeing user privacy while also ensuring the transparency that regulatory bodies require. Additionally, Aleph Zero's low transaction fees are designed for a global audience, allowing users of all backgrounds to participate in the network.