Aleph Zero Monthly Update: Developing the Smart Contract Ecosystem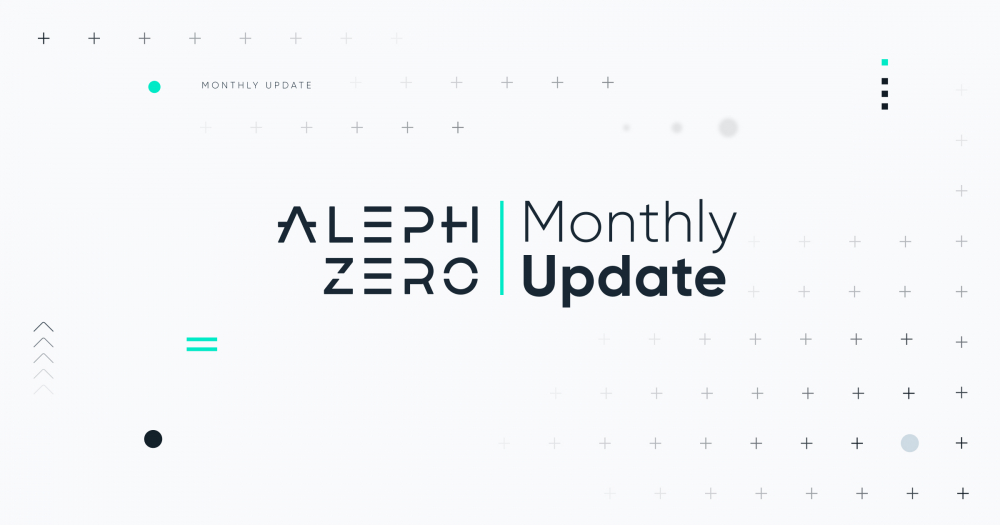 It's time for our monthly Aleph Zero development update, so let's take a look at what's been happening with ink! 4.0, the community validator mechanism, and Liminal—our long-awaited on-chain privacy solution!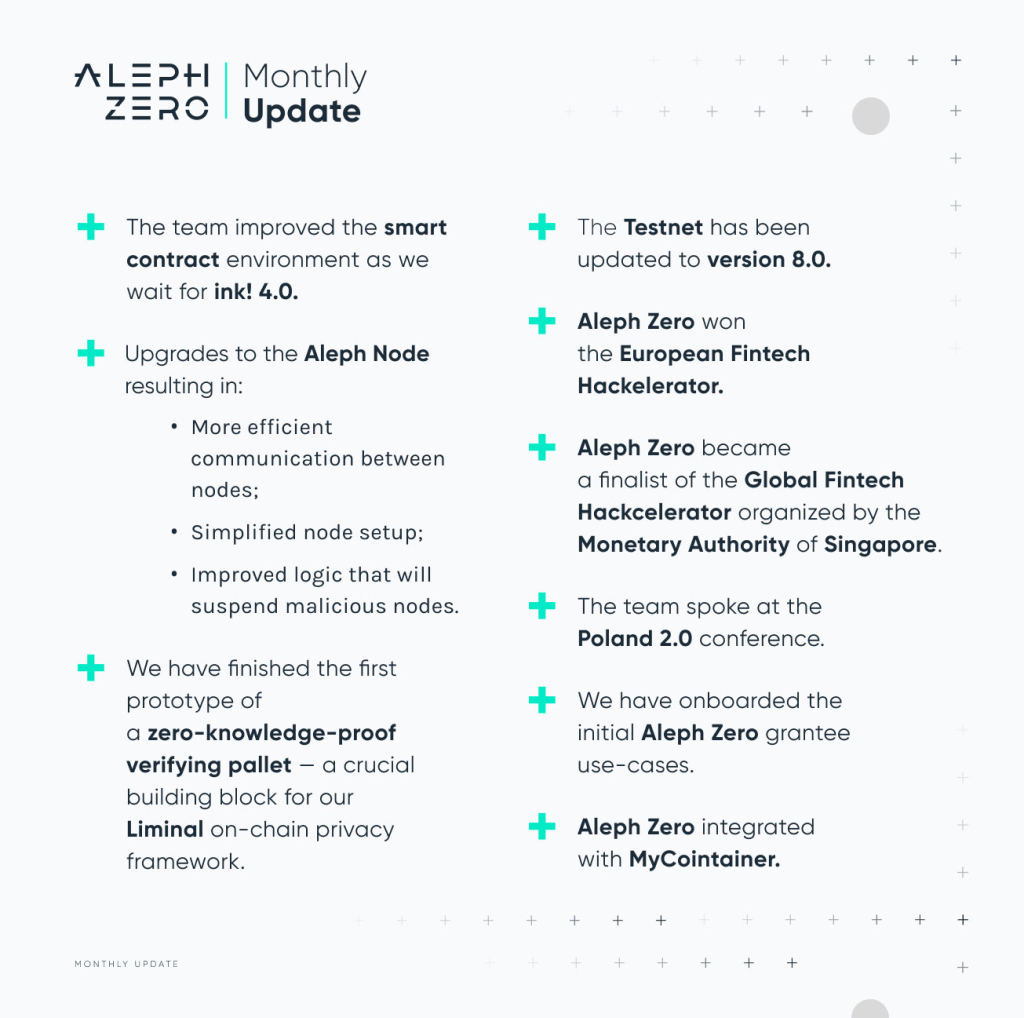 Improving the Smart Contract Environment with ink! 4.0 Beta Around the Corner
For the last few weeks, our smart contracts team has been occupied with preparing the Aleph Zero blockchain for the upcoming release of ink! 4.0—a new generation of the smart contract's language for Substrate-based chains, which will bring significant improvements over the current 3.4 version. Over the course of last month, it turned out that the release of ink! 4.0 will happen at the beginning of next year. Given the above, we were faced with a difficult decision—should we deploy to our Mainnet the smart contracts module compatible with version 3.x, or should we delay the deployment and wait for version 4.0?
After carefully considering and discussing various scenarios with major projects currently being developed as part of the Aleph Zero Ecosystem, we've decided to go with ink! 4.0. The number of game-changing improvements in the new ink! paired with the relatively short time frame in which these changes will be implemented simply makes more economic sense here. Choosing ink! 3.x would force Aleph Zero ecosystem projects to bear additional costs related to preparing two versions of their contracts, migrating already deployed contracts, and a requirement for separate audits of two incompatible versions of their codebase. Finance aside, the amount of effort on doubling the workload didn't make much sense, as that time can be used to develop new features of those products instead of going over the existing codebase and making it compatible with the new version of the library.
To somehow alleviate the consequences that this event will introduce in the development process of ecosystem projects, we have just recently upgraded our Testnet (with the 8.0 update, which happened on November 3) to include the version of the smart contracts pallet that is compatible with both the current stable ink! 3.4 release and the latest experimental alpha version of the upcoming 4.0 release (4.0.0-alpha.3). Our intention is to stick to that pattern and, for the time until the stable release of ink! 4.0, keep our Testnet up to date with all upcoming alpha/beta/rc versions of ink! 4.0. We believe this way can provide all the teams building their dapps on top of Aleph Zero Blockchain with a cutting-edge development environment, allowing them to gradually adapt to the latest change in the WASM/ink! ecosystem and paves the way for a smooth transition between prototypes currently operating on our Testnet and future Mainnet deployments.
With ink! 4.0 beta being released most likely this week, we'll be conducting extensive tests to determine whether this version of the library can be deployed on the mainnet. We'll keep our community posted on the developments as the next two weeks will be significantly more intense for our R&D team.
In the meantime, we have been working on various educational materials aimed at lowering the entry barrier to the ink! ecosystem for dapp developers. Stay tuned!
Aleph Node Update
We are getting closer and closer to the Aleph Zero Mainnet update, which will open our network for the participation of community validators. In preparation for that, we have recently introduced several essential improvements focused on keeping the block-producing committee healthy and active, as well as enhancing the experience of setting up your own validator node. Aleph Node Runner has been updated to a brand new bullet-proof version, making it nearly impossible to misconfigure your node. We also extended our web wallet with a new panel that gathers live information about the performance of currently active validators. You can find it here.
On a slightly more technical side, several necessary internal changes have been introduced to the Aleph Node. In the network layer, used by nodes to communicate with each other, we have implemented a new low-level component responsible for prioritizing within-committee messages above everything else. The communication protocol has also been updated and now includes a message compatibility scheme ensuring a smooth and seamless chain operation even if some validators are running different software versions. This scheme is crucial for the future rolling updates of the decentralized Aleph Zero network. Last but not least, the logic responsible for selecting validators for the committee has been extended with the mechanism for suspending malicious or misconfigured nodes.
Liminal: Our On-Chain Privacy Solution Is Taking Shape
While we've been quiet for a while about this project, it doesn't mean that we haven't been working on it. Currently, we have finished the first prototype of a zero-knowledge-proof verifying pallet, one of the crucial building blocks of Liminal, which allows us to kick-start work on projects such as token anonymizers, private votings, and scaling solutions (i.e., roll-ups). Additionally, we implemented a few building blocks that allow experimenting with actual smart contract use cases without going too deep into cryptography. All the pieces will see the light of day this week at Next Block Expo Berlin, where hackers will be able to play around with them and compete for prizes while building private governance solutions.
Aleph Zero Won the European FinTech Hackcelerator!
We are pleased to announce that our efforts in building the Web3 world have been recognized as we were titled the winners of the European FinTech Hackcelerator. This resulted in Aleph Zero heading to the Singapore FinTech Festival to participate in the global finals.
Aleph Zero: Finalist in the Global FinTech Hackcelerator
The Global FinTech Hackclerator was organized by The Monetary Authority of Singapore, and although we did not win this stage of the competition, it was a great opportunity to meet the local Aleph Zero community and served as a step forward in building our presence in Asia, which will result in a local Partnership Manager joining the team in Q1 2023. We also want to take the opportunity to congratulate the winners of the competition!
Participating in the Poland 2.0 Summit
Recently, the team also had the opportunity to head to London to take part in the Poland 2.0 Summit. This particular conference is dedicated to connecting ambitious and talented young professionals with employers who are working on the cutting edge of their respective fields. Aleph Zero team members Piotr Moczurad and Antoni Zolciak took part in the event. The former led a workshop at King's College London on smart contracts titled "A Gentle Introduction to the World of Decentralized Finance." The latter took part in a speaking panel about DeFi and digital financial services that featured such luminaries as Helen Hai, Executive VP of Binance, and Leandro Nunes, CRO of nChain. The discussion was moderated by Agata Slater, Blockchain Practice Leader and CEE at IBM.
Integration with MyCointainer
On the business front, Aleph Zero has recently integrated with MyCointainer, an innovative Estonian startup operating in the DeFi space. They aim to make earning through digital assets an easy and intuitive process by becoming the go-to savings account for crypto users. They are currently collaborating with ten crypto exchanges and list over 120 hand-picked tokens to ensure the greatest safety for your funds.