EDX to deploy regulated securities exchange, security token standard on Aleph Zero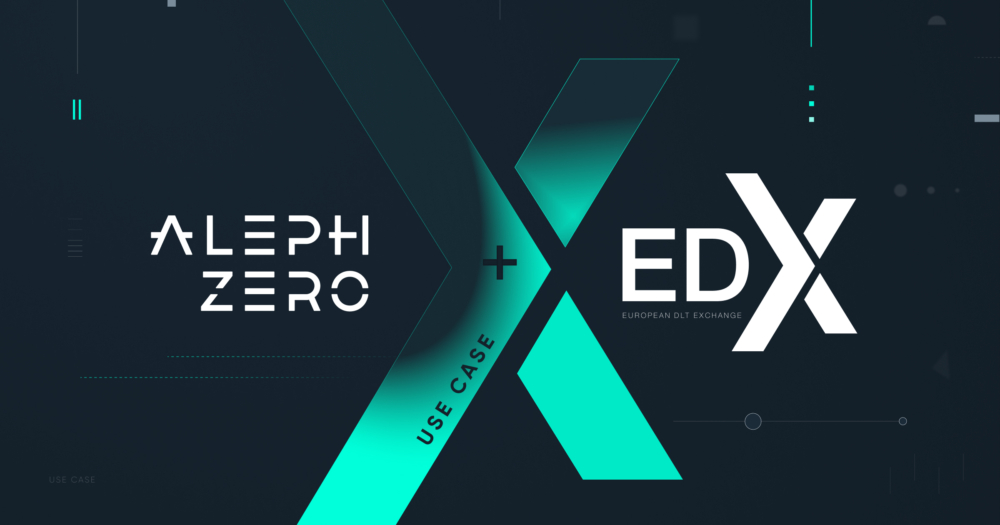 European DLT Exchange (EDX) joins forces with Aleph Zero Foundation and Cardinal Cryptography to realize a high-performance multichain setup with privacy features for EDX, while bolstering the regulated DeFi ecosystem on Aleph Zero.
The cooperation of 21.finance AG, Aleph Zero Foundation, and Cardinal Cryptography is centered around the European DLT Exchange (EDX) project. EDX aims to be one of the first regulated exchanges to operate under the new DLT Pilot Regime, the European Union's pilot program for tokenized securities, bonds, and funds. 
The developments of EDX have been announced today by 21.finance AG.
The first objective of the collaboration is to bring EDX to Aleph Zero to explore the network's capabilities in a regulatory-driven market while boosting the overall privacy features of EDX across multiple networks.
The second goal is to deploy a regulatory-driven token standard to the Aleph Zero ecosystem to help stimulate the regulated DeFi ecosystem of the network.
The European DLT Exchange – the first under the EU DLT Pilot Regime
EDX has already filed for BaFin and ESMA for a DLT-based trading and settlement system license and is currently developing the smart contract infrastructure as well as the off-chain elements of the exchange. This includes regulatory-compliant onboarding, surveillance and reporting, a graphical user interface for marketplaces, and more, in order to create a holistic platform approach.
Moreover, EDX will offer secondary markets for blockchain-based financial instruments, multilateral trade between investors, institutions, and market makers. The platform also advertises deep liquidity for all on-chain assets, smart-contract-based matching and settlement system, and institutional grade tokenization, registry, and reporting.
So far, EDX has already concluded promising collaborations with traditional capital market players and blockchain companies. The appropriate announcements are planned over the next months.
As per EDX, the first versions of the exchange will be deployed on both Polygon and Aleph Zero.
The specific features of Aleph Zero, such as privacy, security, and instant finality, make the network an ideal DLT for what we're looking to accomplish. We'll be working together to provide necessary building blocks for a privacy-preserving, regulated DeFi ecosystem on Aleph Zero in general.

Max Heinzle, founder and CEO of 21.finance AG
EDX itself is led by Francesco Adiliberti, former Managing Director at Goldman Sachs International, HSBC, and Amber Group. Francesco has also successfully operated and exited Nomisma, the first company in Europe that was granted a license by the Liechtenstein Financial Market Authority to allow trading of tokenized financial instruments, in particular derivatives, on a blockchain. Francesco holds a PhD in finance from the University of Zurich.
Building a token standard for DLT-based financial instruments
The collaboration will lead to proposing and deploying a token standard for security tokens, the DLT-based financial instruments, that will be launched on Aleph Zero to meet the security and regulatory requirements of the DLT Pilot regime.
The EU DLT Pilot Regime has entered into force on June 23rd, 2022, and the first applications for license have been accepted on March 23rd, 2023.
The program proposes three categories of DLT market infrastructures:
DLT Multilateral Trading Facilities (DLT MTF)
DLT Trading and Settlement Systems (DLT TSS)
DLT Settlement Systems (DLT SS)
EDX applied for DLT TSS and will combine the regulatory frameworks of both a DLT MTF and a DLT SS. Part of the requirements proposed by the European Securities and Markets Authority is for the projects under this regime to have the total market value of DLT-transferrable securities recorded at any market infrastructure to not exceed 6,000,000,000 EUR at any moment of admission to trading or initial recording.
Innovation is coming
EDX is a pioneer in the space, and the core team of Aleph Zero is excited to have the opportunity to collaborate on an enterprise-grade solution in the EU market.
We believe in the potential of the DLT Pilot Regime to radically alter the financial landscape and are therefore excited to support EDX as one of the first movers in the space

Antoni Zolciak, co-founder of Aleph Zero and Managing Partner at Cardinal Cryptography