Matthew Niemerg to Deliver a Keynote Speech at NextRise 2021 in Seoul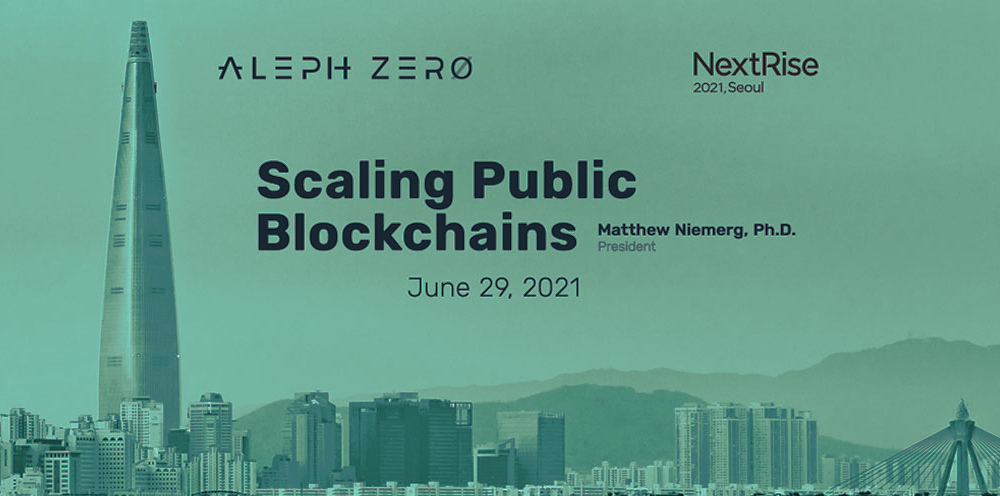 Aleph Zero is proud to announce that our very own Matthew Niemerg will be presenting a keynote speech at NextRise 2021 in Seoul, South Korea!
NextRise is a global conference for the most innovative players in the startup community, with over 10,000 participants planning to attend. The event will take place in Seoul, South Korea, on 28th and 29th of June. For Aleph Zero, it's an exciting opportunity to spread knowledge about blockchain fundamentals.
"We're looking forward to participating in one of the largest conferences in South Korea. To be able to discuss the challenges of blockchain trilemma among other distinct speakers is a real honor for a representative of such a young project as Aleph Zero", Matthew Niemerg summarized.
Countless exhibitions and meetings will be held, which will showcase the trends and innovations that will govern our lives in years to come. The event will also give industry leaders a chance to meet 1:1. Six different fields will be discussed, including Environment, Social, and Corporate Governance (ESG), Future Mobility, Bio/Healthcare, VR/AR, E-commerce, and Blockchain/Fintech. 
Representing Aleph Zero at the conference will be Matthew Niemerg, who will be one of the keynote speakers at the conference among such notables as Kwangchun Chung (MIT Lab), Peter Lofgren (ABB), Christine Wang (Lufthansa Innovation Group), and others. He will present a speech on Scaling Public Blockchains. The presentation will explain:
The problem at the root of creating a distributed system;
Numerous solutions for creating "truthful" distributed ledgers;
The advantages of distributed ledger technology;
Real-world applications of blockchain;
Limitations of the technology.
"NextRise is an important platform that catalyzes the investment of current assets into the future and innovation. The government will also improve the systems and build the infrastructure to provide full support so that autonomous private investment in venture firms and startups, and the effects made for their growth would settle as a new culture," said South Korean Prime Minister Chung Sye-kyun.
NextRise is Aleph Zero's second major conference in South Korea after 2019's SACA presentation.