Meet SubWallet: A non-custodial wallet for Aleph Zero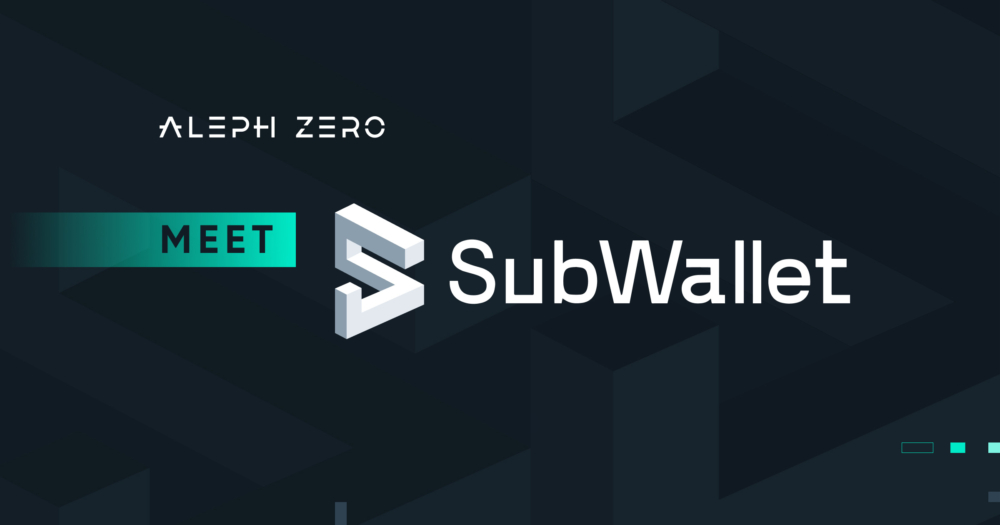 The Aleph Zero is growing in the number of wallets available for users. In this article, let's revisit SubWallet—an interesting proposition that is the first to support NFTs on Aleph Zero.
In this intro article, we'll take a closer look at SubWallet and revisit how it supports Aleph Zero after almost a year since they debuted in our ecosystem.
What is SubWallet?
This non-custodial wallet allows users to track, send, receive, and monitor multi-chain assets across 150+ networks. Among all that is supports, it allows for making AZERO transactions and staking your assets.
Additionally, SubWallet supports a set of solutions available across multiple platforms, such as:
Crowdloans
Governance
XCM Transfer
NFT Management
Parity Signer & Ledger support
Light clients support
QR-code account import
Token import
EVM DApp support
MetaMask compatibility
Custom endpoint
Fiat on-ramp
SubWallet is available to users both as a mobile app on Android and iOS TestFlight and browser extension, supporting Firefox, Chrome, Brave, and Microsoft Edge.
The first wallet to support NFTs on Aleph Zero
SubWallet has an intuitive, easy-to-use user interface that makes for seamless Web3 experiences. The team aims to continuously improve its product to accelerate the user onboarding process.
What's important for Aleph Zero users, is that it's the first to support PSP 22 and PSP 34 token standards, which–respectively–are Aleph Zero's standards for ERC-20 and Non-Fungible Tokens.
This helps projects such as ArtZero, Azero Punks, AZERO Domains, and others to offer a complete experience of holding NFTs, making them visible on the account.
Working for a Multichain Future
SubWallet has supported the Aleph Zero ecosystem since the early days of the network, for which we have been incredibly grateful. We share the vision for creating seamless experiences for users interacting with Web 3 products. This goes both for smart contract platforms and interfaces and wallets.
The progress that Aleph Zero has made is incredible; with proven limitations in EVM, WASM smart contracts written in ink! are the future. As an early and constant supporter of the Aleph Zero ecosystem, we have no doubt about their achievements and are committed to working alongside them to support innovative and disruptive technologies as quickly as possible. We can't wait to see what the partnership between SubWallet and Aleph Zero will bring.

SubWallet Co-founder Hieu Dao
SubWallet's commitment to the multichain ideal is one that Aleph Zero wholeheartedly backs and intends to forge ahead with as we prepare for new collaborations that will open up the Aleph Zero ecosystem to new ideas, products, and applications inhabiting the broader Web3 space.