Monthly Update: EFP, Dashboard, Dev Portal, and more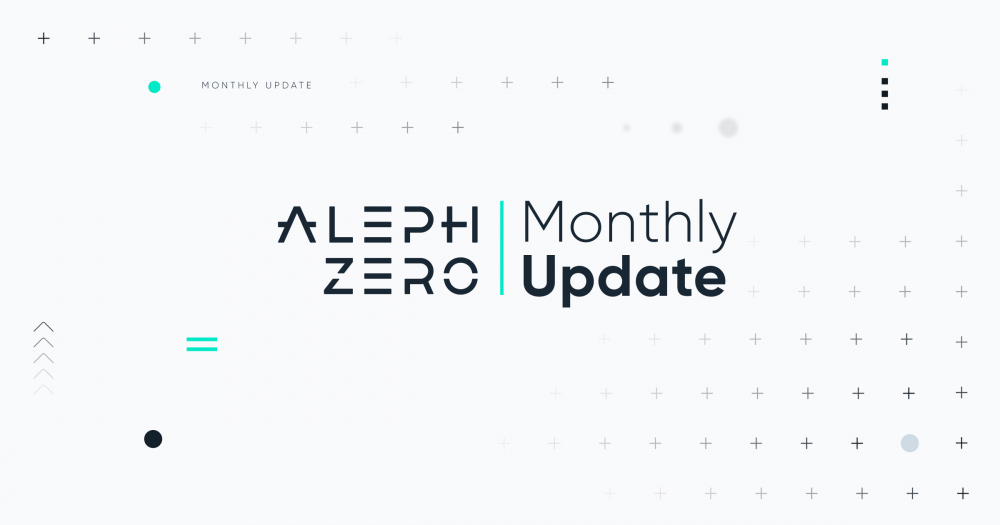 April brought major ecosystem parts, such as the Ecosystem Funding Program, Dashboard as the first user-centric product, and Dev portal to support developer onboarding. But there's more!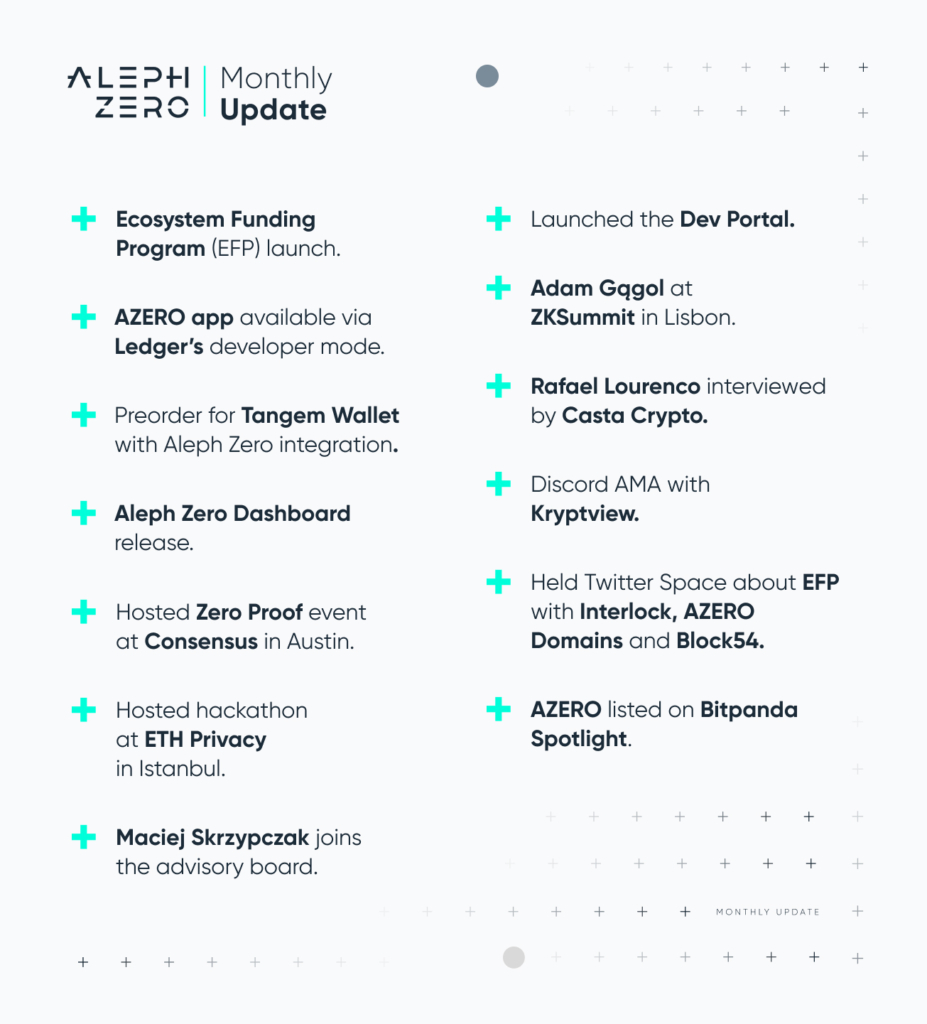 The Aleph Zero Ecosystem Funding program
April saw the launch of Aleph Zero's Ecosystem Funding Program also known as the EFP. The EFP is an initiative launched by the Aleph Zero Foundation to support Aleph Zero builders via grants, incubation, acceleration, and more.
The program seeks to provide support in three distinct ways: grants (issued by the Aleph Zero Foundation), incubation by partner network, and follow-on angel and venture capital investments. By combining these three components, the program will provide holistic, rounded support to those driving Aleph Zero's adoption.
The Aleph Zero Dashboard is live
At the start of the month, the Aleph Zero Dashboard became publicly available. This dashboard is a user-friendly alternative to the only other official wallet solution – the mainnet web wallet. At the moment, the dashboard only supports management of staked coins, however the team will be working on enabling transfers in subsequent releases.
Dev Portal gets released
Midway through the month, we launched the Aleph Zero Dev Portal. The portal is a repository of valuable information that seeks to simplify the onboarding experience for developers on Aleph Zero. You can expect to find in-depth tutorials, tools, articles, and other useful resources there. We believe that the Dev Portal is what you need to get up and running while building on the network.

Learn more about the Dev Portal
Aleph Zero application is available via Ledger's developer mode
The Aleph Zero application is now available for download via Ledger's developer mode. The official release is pending a security audit and Ledger's acceptance before being admitted to Ledger's public releases. This update has been frequently requested since the mainnet launch and we thank Zondax for making it possible.
Read more about this update here
Tangem Wallet integration starts
Aleph Zero is also in the process of being integrated with Tangem Wallet–a credit-card-sized hardware wallet with NFC connectivity. The integration will proceed as soon as 300 preorders are placed using the code AZEROPREORDER. So far, about 100 preorders have been made.

Learn more about this here
Zero Proof event at Consensus 2023
We had the pleasure of hosting an event at Consensus 2023 in Austin called Zero Proof. We were pleasantly surprised with the huge number of RSVPs for our event (1,200+)! The event itself consisted of interesting food & drink, live music, and other activities. We would like to thank everyone who joined us and our ecosystem partners for a night of networking and fun!
ETH Privacy Hackathon
At the end of the month, Aleph Zero Product Manager Jakub Kocikowski hosted a hackathon at ETH Privacy in Istanbul. The hackathon included two tracks that invited hackers to unleash the power of Aleph Zero's Shielder as well as a speech and Q&A session with Jakub. Thank you to the participants!
Maciej Skrzypczak joins Aleph Zero advisory board
The core team behind Aleph Zero had the pleasure of welcoming Block54's Maciej Skrzypczak to Aleph Zero in an advisory position in April. Maciej has vast experience in social marketing and building marketing businesses; he has been the recipient of 50 advertising awards to date and worked closely with Epic Games to co-create Fortnite's go-to-market strategy across 17 Central and Eastern Europe (CEE) markets. Maciej will support projects in the EFP.

Learn more about this update
Adam Gągol at ZKSummit
Adam Gągol attended ZKSummit in Lisbon at the beginning of the month to meet with other researchers, cryptographers, practitioners, founders, and developers working on zero-knowledge topics while participating in topic-oriented talks and workshops.
Rafael Lourenco on Casta Crypto
On April 22nd, Rafael Lourenco was featured on YouTube channel Casta Crypto to discuss Aleph Zero. The interview was in Portugese, however auto-translated captions are available via YouTube. Thanks to Casta Crypto for featuring the project!
AMA with Kryptview
We have also joined an AMA with Kryptview on their Discord channel. That was another opportunity to introduce Aleph Zero to a new audience.
EFP Twitter Space
On April 20th, the Aleph Zero team hosted prominent members of the Aleph Zero Ecosystem for a Twitter Space to discuss the first impressions of the Aleph Zero EFP. Participants shared many insightful thoughts and over 1,200 people have tuned in to date. Make sure to listen to the recording!

Watch the recording here
AZERO now available on Bitpanda
The native utility coin of the Aleph Zero network—AZERO—is now available on Bitpanda Spotlight.