Nomination Pools Airdrop: FAQ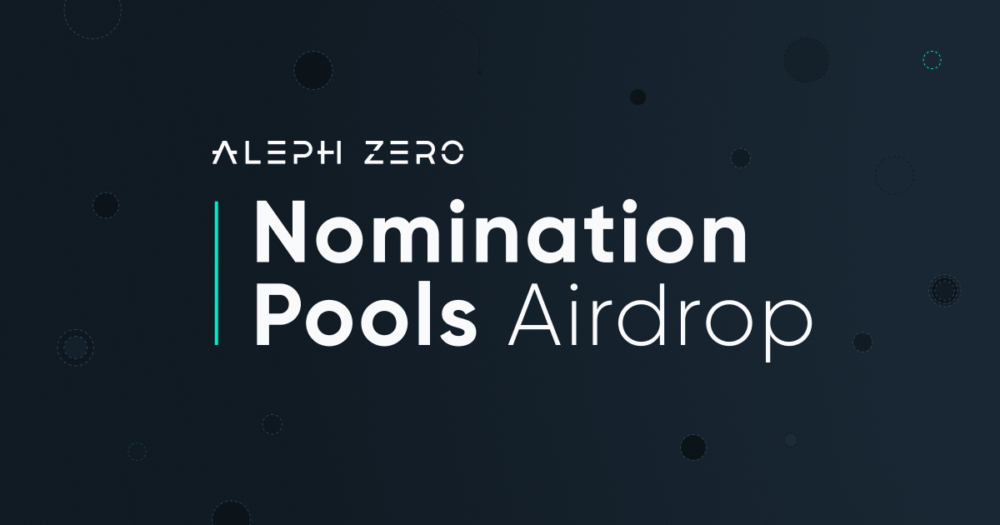 Dear nominators,
We're happy to announce that the airdrop for users moving from direct nominating to nomination pools has just happened. We would like to summarize all the information you need in a little FAQ:


What Was the Airdrop About?
Nomination pools are a feature allowing multiple users to team up together and act as a single nominator. This helps with network decentralization as it allows for lowering the minimal amount of tokens required for staking. However, switching from being a direct nominator to being a pool member requires a 14-day unbonding period, during which one does not receive staking rewards. This airdrop is meant to compensate for these missed rewards.

Was I Eligible for the Airdrop?
To qualify for this airdrop, your account's history needs to fulfill the following conditions:
Having less than 2000 AZERO bonded and delegated for nominating as of 21st of November, 2022, 23:59 CET (at block number 32504605)
Unbonding the entire stake after block number 32504605
Joining a single nomination pool with at least the unbonded amount as your stake before the 18th of December 2022, 23:59 CET (block 34831595)
Please mind the fact that all these actions need to be performed by one account. If you moved your unbonded tokens to a different account and then joined the pool, you are not eligible for the airdrop.
How Many Tokens Should I Expect?
The size of the airdrop is at least double the rewards you missed during the 14-day unbonding period. Please note that this value is calculated based on the amount you unbonded from direct nomination, not the amount you sent to the pool (in case you increased your stake with some additional AZERO when joining a pool).

How to Check if the Airdrop Was Given to Me?
The airdrop was performed on the 20th of December 2022, around 20:15 CET (block numbers 34990725 – 34990836) from the account with the identity AZF/AIRDROP. To check if it happened to your account, please go to Alephzero Subscan, search for your account ID and look in the Transfers tab for incoming transfers from AZF/AIRDROP. Please note that certain jurisdictions have been excluded from the airdrop due to regulatory reasons.
What to Do if I Didn't Get the Airdrop, but I Believe I Should?
If you think you are eligible for the airdrop but you don't see it on Subscan, and your account balance did not change, please send an email to nomination-pools-airdrop@alephzero.org. Please put ONLY your account ID in the subject and describe your case in the message body.
What to Do if I Didn't Know About the Airdrop and Missed the Opportunity to Move to a Nomination Pool Without Losing 2 Weeks of Rewards?
Don't worry, and stay tuned! The next round of the incentive program for moving to nomination pools is coming.