Applications
Technology
Business
Supercolony and Aleph Zero to help fuel the growth of Substrate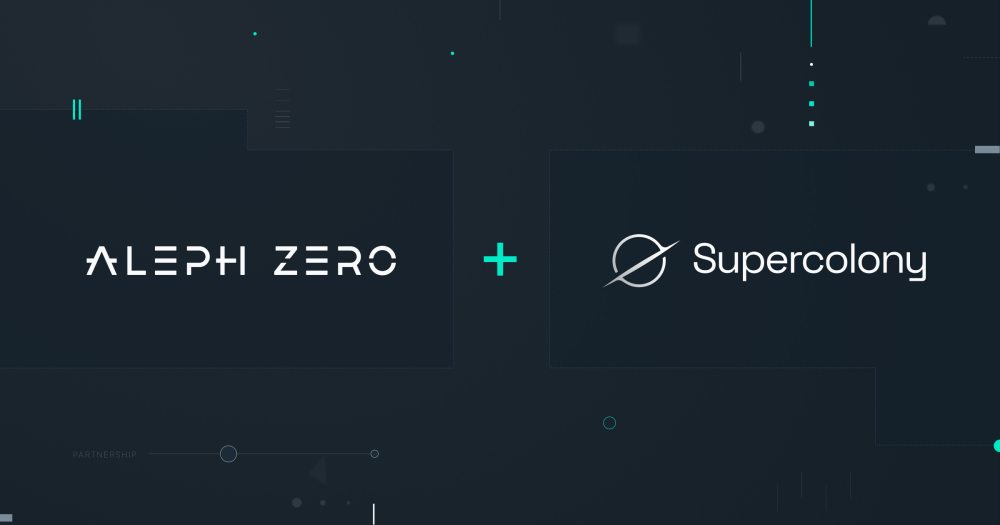 Supercolony, Aleph Zero, and Cardinal Cryptography join forces to boost the adoption of Substrate.
We've been in touch with the Supercolony team for a while now. First meeting them at the Polkadot Decoded 2022 in Berlin, we knew we had a number of things in common. Both Supercolony and Cardinal Cryptography (Aleph Zero's core research and development partner) have received grants from the Web3 Foundation. Both Supercolony and Aleph Zero are in the Substrate Builders Program. More importantly, all of those entities want to work together to grow the adoption of Web3 by ensuring that the blockchain community has access to the best possible infrastructure and tools.
Supercolony is a venture studiо that creates, funds, and builds Polkadot, Substrate, and cross-chain companies. It is a team of visionary founders and builders that choose to work at the edge of innovation. Supercolony empowers entrepreneurs and accelerates growth within the ecosystem. The venture studio enables entrepreneurs to efficiently convert their ideas into companies through operational support, company building, product design, and funding.
Supercolony's goal is ecosystem creation, taking leadership in moving the market forward, creating the vector of ecosystem development, and making the entrance points for businesses more accessible. To ensure the achievement of this goal, Supercolony not only builds businesses itself but also creates all needed infrastructure. That's why they are working on needed tools and standards for real builders.
Supercolony: tooling for next-generation of builders
"Among other things, Supercolony is working on a toolset called OpenBrush—a smart contracts library similar to OpenZeppelin", says Michal Swietek, Aleph Zero's co-founder and development lead. OpenBrush aims to serve as a starting point for every developer entering the Substrate ecosystem.
OpenBrush brings two interesting inventions to the market: Sol2Ink and Typechain.
The first one serves as a tool for easy migration from Solidity to ink! and Rust. Sol2Ink, in its current state, is able to parse compilable Solidity interfaces into ink! Traits and compilable Solidity contracts into ink! Contracts.
The second tool, Typechain, aims to improve developers' experience working with ink! smart contracts by optimizing different routine processes—such as making code typesafe and therefore flexible in different situations.
Education is key: Supercolony and Aleph Zero joining ETH Warsaw
Cardinal Cryptography will actively use OpenBrush to develop different solutions on top of Aleph Zero. Aleph Zero Foundation, on the other hand, plans to support Supercolony and help spread the news throughout the community of Web3 builders and developers. Supercolony will also join the Aleph Zero ecosystem by offering support to cross-chain builders. And as far as substance-based actions are concerned, we are all starting out with a Sol2Ink workshop during ETH Warsaw 2022, where Michał Świętek and Supercolony will be sharing their knowledge amongst Solidity developers.
We're excited to see this partnership come to fruition and are looking forward to more opportunities to come.