Aleph Zero to Launch an Ambassador Program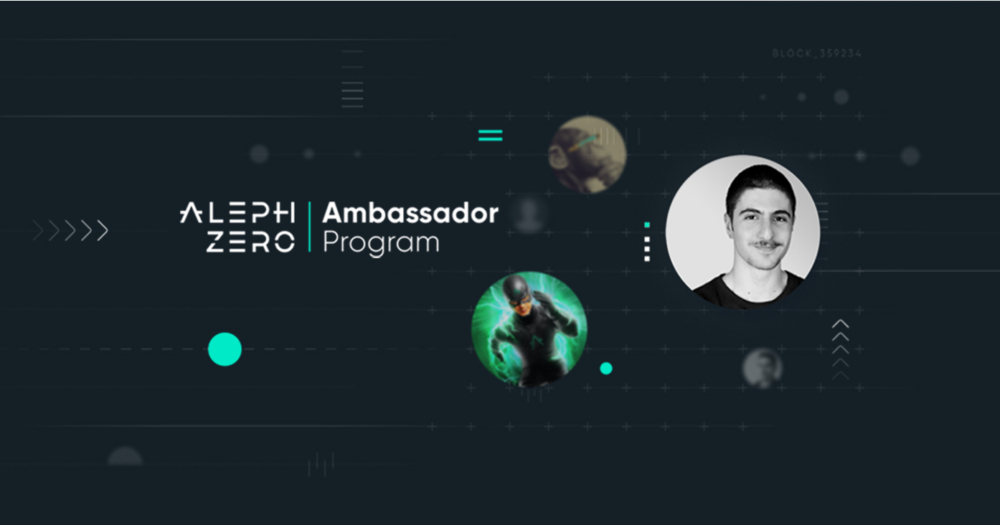 It's nigh time that we launch our Ambassador Program—an initiative that will give selected community members the possibility to co-create the Aleph Zero story.
Building a modern blockchain ecosystem isn't only about technological wizardry; it's also a story of the people behind it. The Aleph Zero team is immensely proud of the motivated and driven community that has supported the project from day one and aims to collaborate more closely with its most active members. To do so, we will launch the Ambassador Program on January 18th, 2022, and it will be held indefinitely.
We will be selecting new members to further animate the Aleph Zero community on a quarterly basis. The initial program members will be announced at the launch of the program. This very first ambassador team has been selected from among our most active community members. Some of them have been with us since 2019. 
Ambassador Program: How to Get Involved and What to Expect
Signing up for the program will require our potential new Ambassadors to head to a dedicated subpage which will be launched on January 18th, 2022. You will then have the opportunity to apply until March 31st, 2022, to be selected during the first cohort. Afterward, the second cohort (until June 30th, 2022) will go live, and the second selection process will be concluded in July.
Being a brand ambassador will be about responsibilities, but it will also be about rewards and exclusive access to the behind-the-scenes workings of the Aleph Zero project. Ambassadors will assist us in educating the community on the features and happenings occurring at Aleph Zero. They will also help us organize meetups and conferences that will keep the local communities better informed. There will never be a dull moment as we plan to gift our ambassadors with Aleph Zero swag and the ability to beta-test new features. Once we complete the NFT infrastructure, you will be able to expect some inspiring NFTs to grace your portfolio. And that's just the start!
We Want You to Join the Aleph Zero Ambassador Program!
We are gearing the recruitment process for the Ambassador Program towards energetic, driven, and empathetic individuals who know how to create an inclusive environment that is fit for the better tomorrow that we want to build. Experience in social media management, community leadership, and building bridges between people and organizations will be highly appreciated! Being an ambassador will mean committing to the Aleph Zero mission on several fronts, with the most prosaic commitment involving availability and time to engage with the community.
So do you think you have what it takes to be part of Aleph Zero's Ambassador Program?
If so, please stay tuned for the program to launch on January 18th, 2022. We'll have more details to share then!