Aleph Zero at Next Block Expo 2022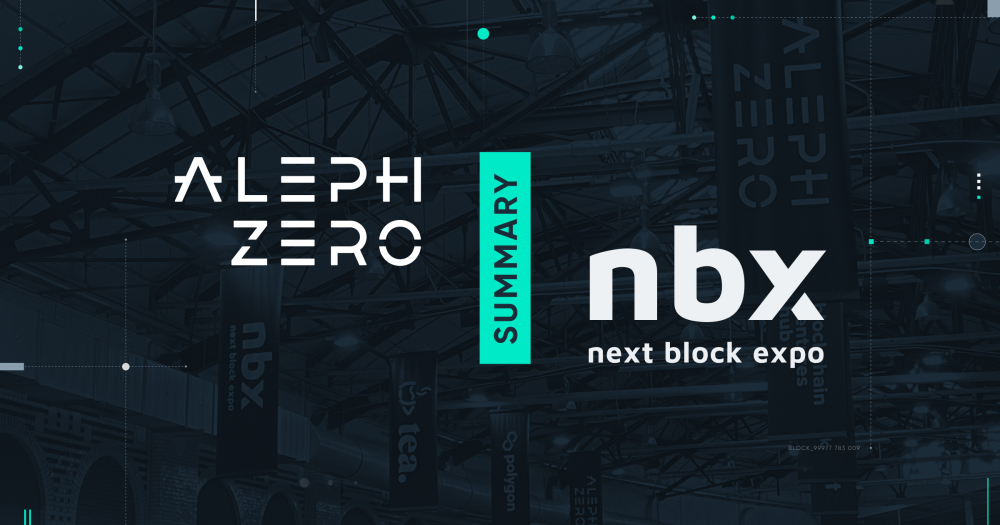 Between the 23rd and 24th of November, the Aleph Zero team attended the Next Block Expo Web3 conference hosted in Berlin, Germany. The two days saw us debuting our multichain privacy framework Liminal, hosting a hackathon (with zkVote winning the main prize), workshops, and keynote speeches. Let's go over the highlights!
Next Block Expo is positioning itself as one of Europe's most exciting Web3-oriented conferences. The event boasted a dynamic and large group of attendees, knowledgeable keynote speakers, panel discussions, workshops, and some of the most innovative projects currently inhabiting the space. Alongside the Aleph Zero team, visitors had the chance to interact with members of inspiring blockchain enterprises such as Polkadot, Polygon, Near, Cosmos, and Solana. One of the key strengths of Next Block Expo is that it also serves as an incredible networking opportunity, for example, by bringing startups in contact with various venture capitalists groups.
During the conference, the Aleph Zero team presented its booth and discussed with all interested in the merits and challenges facing our novel Layer 1 privacy-enhancing blockchain. Additionally, Adam Gągol and Piotr Moczurad were both featured as speakers. The former presented a keynote speech on blockchain privacy and actively participated in a panel discussion. The latter delivered a workshop on smart contracts and ink!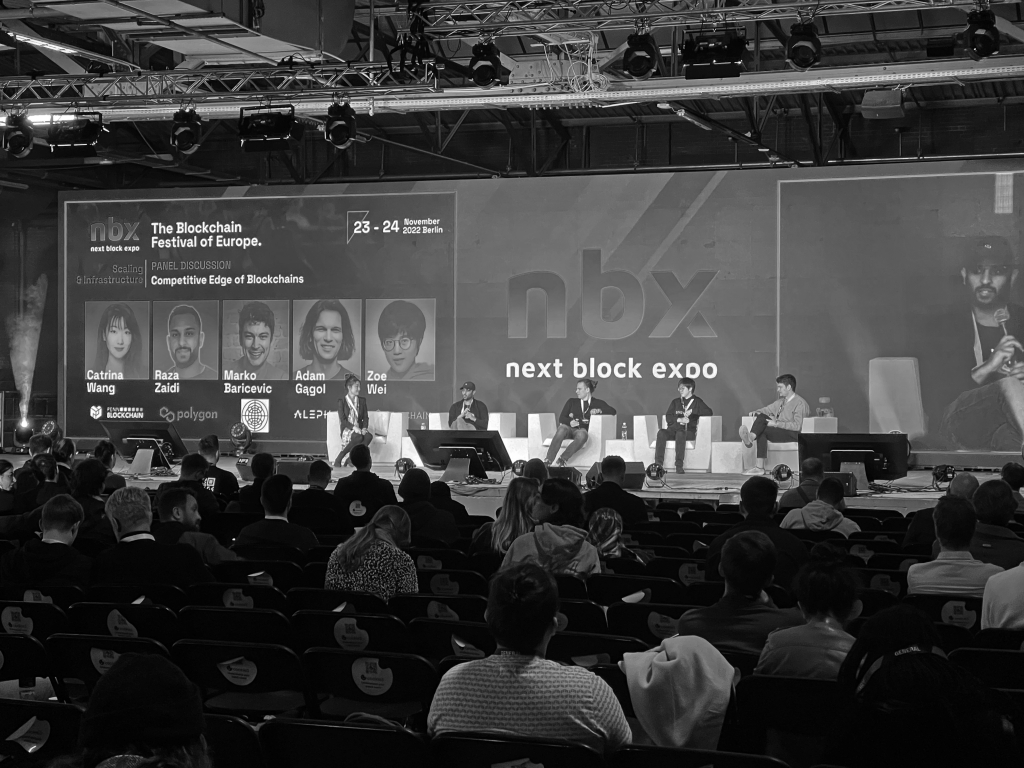 Liminal-ZK Makes Its Debut
As gold sponsors of the Next Block Expo Hackathon, Aleph Zero was fortunate to use this event as an opportunity to present Liminal, our take on a multichain blockchain privacy framework. This occurred both during a keynote speech and the hackathon. During the hackathon, participating teams had a chance to interact with Liminal's code and unique features as they presented their concepts for potential products that could be constructed on our codebase. The four winners are:
zkVote: a DAO based on anonymous voting that uses Liminal to protect voters' privacy. Notably, zkVote garnered the main prize of the Hackathon;
Azero Curations: an anonymous public messaging board that allows users to share posts and hand out likes;
Staking Operator Governance: a dashboard that nominators can use to vote for validators and to bond funds for proof-of-stake mechanisms;
Beta Zero One: a tool that allows employees to give feedback anonymously to businesses they work for.
Within the following days, the Aleph Zero team will be in touch with the hackers responsible for the above to determine the next steps regarding building these products further.
Adam Gągol is Spreading the Word on Blockchain Privacy
On November 24th, Aleph Zero co-founder Adam Gągol led a keynote speech on the advancements in blockchain privacy features that reshape how we think about handling our online information. The talk titled "Without being SNARKy, what's coming up for blockchain privacy in the next few years?" explained ZK-SNARKs, a cryptographic primitive allowing a party to prove* knowledge of some information without revealing its contents. This innovative technology enables users to hold secrets and transform them while proving their correctness to the blockchain.
The implications of this research are immense and far-reaching, as it will usher in a new level of privacy in the realm of decentralized finance (DeFi) and on-chain governance procedures, paving the way for new forms of democratic activity. During his presentation, Adam also drew attention to the two ways in which cryptographic primitives can enable blockchain to perform computations on a private state, either through using hardware-based trusted-execution environments (TEE) or software-based secure multiparty computations (sMPC). The differences between the two technologies are as follows:
TEE: Each private computation node needs a special TEE chip that keeps part of the state in an 'enclave' that is not available from the outside; even the chip owner can't access the data stored inside. This requires users to trust the manufacturer and the hardware solution resulting in vender lock-up.
sMPC: Each private computation node keeps part of each secret, which is split among the other nodes using secret sharing. They perform computations using a special protocol that requires them to interact. This requires users to trust the committee and to conduct calculations that make this solution perfect for simple circuits.
Aleph Zero has been exploring sMPC solutions as its decentralized nature bodes well for its efficacy in preserving user privacy.
Exploring Rust, ink!, and WASM During Piotr Moczurad's Smart Contract Workshop
Conference attendees also had the opportunity to attend Piotr Moczurad's smart contract workshop titled "Safe and robust smart contracts in ink!" He began the class with an overview of smart contract technology and the implications of this novel solution in the fields of DeFi, digital identity, supply chain management, and certificates of ownership. Through the use of rigorous mathematical models, smart contracts offer us a pathway to a world in which many activities can be conducted without brokers and intermediaries.
During the course of the class, the assembled developers learned that ink! is an embedded domain-specific language (eDSL) used in tandem with Rust because of its many benefits. These include Rust being:
Type safe;
Memory safe;
Ergonomic;
Energy-efficient;
Universally liked among programmers.
Also, WASM serves as the compiler, benefitting smart contract programmers with its ubiquitousness, speed, and security. Besides sharing theory with his audience, Piotr ensured to get them involved with coding their first smart contract in the ERC-20 token format.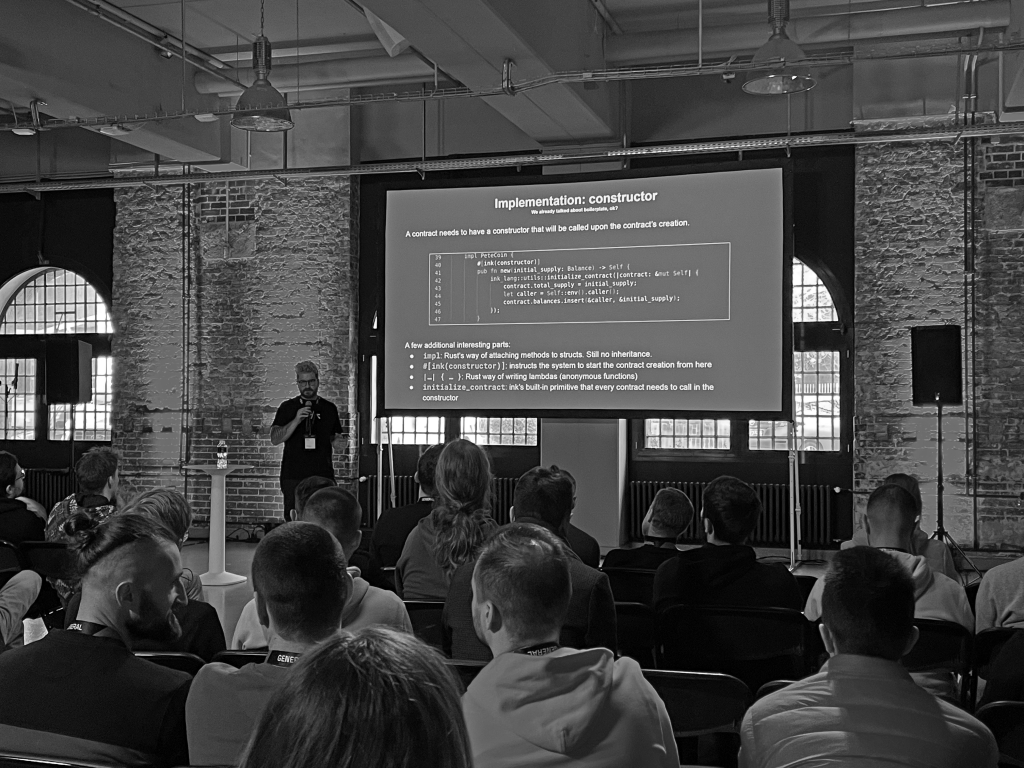 Aleph Zero Continues to Nurture Its Business Relationships
Besides being an excellent opportunity to spread educational material on one's activities and to participate in the dialogue revolving around the technological underpinnings of Web3, conferences also serve as the intersection during which technology and business meet. It is always with great enthusiasm that we continue to meet new potential partners and strengthen our relationships with existing friends. Next Block Expo was no different as we continued to meet new potential funding partners to support Aleph Zero use cases.
We Can't Wait for Next Block Expo 2023
Next Block Expo is a significant event on Europe's Web3 conference map, a place where some of the most impressive minds creating the future of online interactions can meet to seek inspiration or the means to push onward with their respective projects. We can't wait to visit next year, hopefully with new ideas and concepts that will serve to further light the fire beneath the discussion about blockchain technology.