Aleph Zero Wins a Parachain Slot, Connects to the Polkadot Ecosystem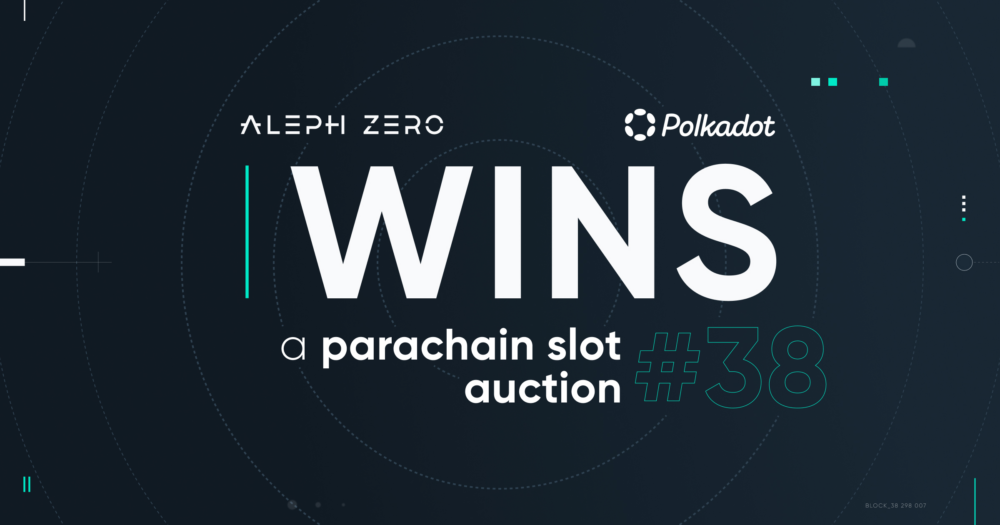 Aleph Zero has won a Polkadot parachain slot auction as a step towards establishing a cross-chain bridge infrastructure for the ecosystem. Learn more about the details.
We are thrilled to announce that Aleph Zero has won Auction #38 for the Polkadot parachain slot. The bid has been made in an effort to secure the infrastructure for the upcoming Aleph Zero bridge to the Polkadot ecosystem.
Parachain auctions are held in an unpermissioned candle auction, in which project teams bid at an unknown closing time. The winning bid of 25,000 DOT (~100,000 USD at the time of bidding) has been self-funded by the Aleph Zero Foundation's treasury. The lease period is set for February 13, 2023–December 18, 2024.
"We're excited to take this significant step towards becoming closer to the Polkadot ecosystem. It's important to note that Aleph Zero remains a sovereign, standalone chain and not a parachain by definition. We've built a network based on our own AlephBFT consensus protocol and combined it with the Substrate framework, whereas parachains need to use the default BABE/GRANDPA in order to operate as parachains. For Aleph Zero, the parachain slot serves strictly as a bridging mechanism."

Damian Straszak, Senior Developer at Aleph Zero
Broadening the capabilities of Aleph Zero
This new parachain slot will highly broaden the capabilities of the Aleph Zero network, as obtaining the slot is a critical step towards establishing a two-way connection between Aleph Zero and Polkadot ecosystems. This puts us closer to both Polkadot, Polkadot ecosystem projects, Kusama, as well as realizing the full vision for Aleph Zero, going beyond the highly scalable layer 1 capabilities and making the unique Liminal privacy framework available to other key blockchains. The parachain slot will also allow Aleph Zero to indirectly bridge to Ethereum.
"Winning a parachain auction allows us to build a robust and reliable bridge to the entire Polkadot ecosystem. Instead of relying on smart contracts alone, the security is guaranteed by both Aleph Zero mainnet and the Polkadot relay chain."

Michał Świętek, Aleph Zero's co-founder and development lead
In the meantime—thank you for your ongoing support. We're beyond excited to announce more ecosystem developments in the very near future.