Aleph Zero and Compliance: Why We Believe Dialogue is Important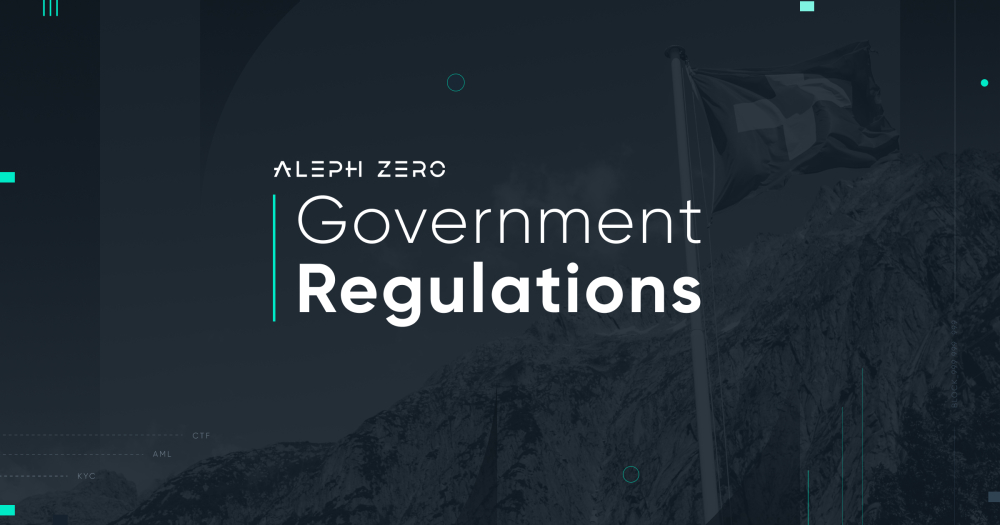 The chatter around regulations and their impact on the blockchain space is growing to a fever pitch as it seems unavoidable that the rule of law will reach Web3. Let's look at Aleph Zero's approach toward compliance, its relationship with regulatory bodies, and what it means for the ecosystem's future.
Throughout the entirety of its development, Aleph Zero has cultivated an approach that is regulatory-friendly and progressively minded toward complying with any existing legal frameworks, as well as preparing for the ones that are being drafted by relevant authorities. We believe that to create a truly healthy blockchain space, regulations are necessary to empower the industry's image and refocus it on technological progress and research. So what has Aleph Zero done to future-proof its existence in the upcoming years from a regulatory perspective?
Switzerland: the place for mature blockchain projects
Aleph Zero Foundation's headquarters are located in Zug, Switzerland, thus putting us on the frontline of the debates taking place between various projects and regulatory bodies. An important catalyst of this state of affairs is the positive attitude displayed by the Swiss federal government as well as the Swiss Financial Market Supervisory Authority (FINMA)—both of which seek to provide Swiss-incorporated Web3 projects with progressive thinking and rapid adjustments to current policies.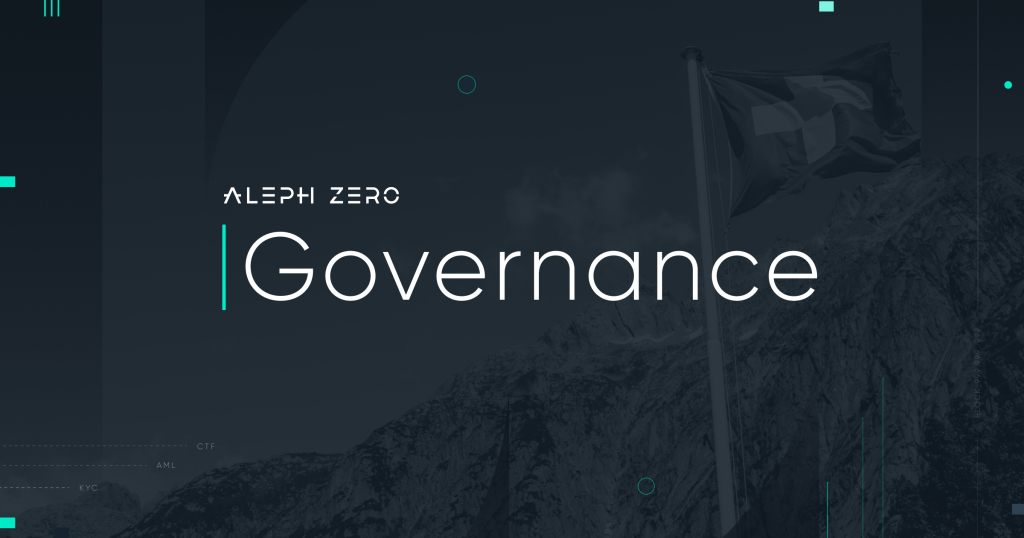 Switzerland has been consistently proven to be at the forefront of all things blockchain since the incorporation of the Ethereum Foundation back in 2014. From the very get-go, state authorities saw blockchain technology as an opportunity and as a complementary rather than a competitive sector for traditional financial structures. On September 25th, 2020, the Swiss Parliament approved the Law on Distributed Ledger Technology (DLT), which allowed for the tokenization of rights, claims, and financial instruments. It also laid the foundation for best practices when cryptocurrencies are involved in insolvency proceedings. Several amendments were later introduced to the Swiss Code of Obligations and the Federal Act on Intermediated Securities, which enabled the creation of distributed ledger-based securities. These regulations came into force on August 1st, 2021.
Aleph Zero's no-action letter from FINMA
As we can see, the Swiss authorities have gone out of their way to introduce some of the most forward-thinking regulatory practices for the DLT space among the world's governments. The Aleph Zero team also went to great lengths to ensure that each step we took on our journey was compliant with Swiss law, which culminated in AZERO receiving a no-action letter from FINMA in March 2021. This meant that the Foundation's business model is in accordance with the rules of Swiss law and that the launch of the Aleph Zero Protocol took place after sound legal analysis and fulfilled all regulatory requirements.
Furthermore, Swiss legislators have taken the time to introduce concrete legislation for initial coin offerings (ICOs) in 2018 as the first authority worldwide to do so. This resulted in dividing tokens into three categories, with each category being subject to specific laws. These categories are as follows:
Payment tokens: FINMA defines this family as "pure cryptocurrencies" that are meant to be used as a means to pay for goods and services. This group also does not give rise to claims to any issuer or third party.
Utility tokens: This group of crypto-backed assets is designed to provide users access to digital services that are hosted on the blockchain. Considering that $AZERO falls into this category, it is important to note that FINMA does not intend to treat utility tokens as securities as long as they only bestow digital access rights to an application or service and as long as they can fulfill their function of utility tokens upon market launch. FINMA, though, does reserve the right to re-categorize a utility token as a security if they suspect that it has the qualities of an investment. Additionally, being framed as a utility coin and not a privacy coin gives $AZERO considerable resilience towards regulatory uncertainty.
Asset tokens: Finally, this last category represents assets such as debt, an equity claim, or shares in a company. These qualities make asset tokens close to equities, bonds, and derivatives. FINMA also defines tokens that allow investors to trade physical assets on the blockchain as also being a part of this class.
Despite payment tokens being recognized as a method through which parties can settle for goods and services, the Swiss government does not recognize them as legal tender. However, tax authorities in the canton of Zug started accepting tax payments in Ether and Bitcoin in 2021, pioneering crypto tax payments in the country. This turn of affairs is not surprising, considering that Zug is the headquarters of Crypto Valley.
Welcome to Crypto Valley
The founding father of Crypto Valley was Johann Gevers, who in 2013 moved his startup Monetas to Zug, Switzerland. He started laying the foundations for a crypto-oriented hub for research and business modeled after Silicon Valley. Switzerland proved to be the ideal place for such an initiative as a result of the country's neutrality, business-friendly mindset, stability, and impressive pool of highly educated and motivated talent. The Crypto Valley Association aims to create a supportive network of both private and public entities that will facilitate the growth and adoption of DLT solutions.
Some of the organizations associated with Crypto Valley include the Ethereum Foundation, Near, Cosmos, Bitcoin Suisse, MME Legal | Tax | Compliance, the Digital Finance Compliance Association, the Bitcoin Association of Switzerland, and the Lucerne University of Applied Sciences and Arts. With such backing, unsurprisingly, Crypto Valley has created a thriving community of startups, developers, researchers, and regulators that are trendsetters on the global stage regarding the development of cooperation between institutionalized figures and private actors in the blockchain space.
Aleph Zero is a proud member of the Crypto Valley initiative and actively participates in the discussion revolving around the crypto industry and the growing overlap between traditional finance and the novel solutions presented by the Web3 space.
Aleph Zero happily relies on the best legal partners: MME

Founded in 1999, well before the introduction of crypto assets, MME has evolved with the times and is now one of the most prestigious blockchain/digital assets legal teams one can hope for. Their areas of expertise include protocols, dApps, DeFi applications, FIAT/DC and DC/DC Exchanges, custody of digital assets, electronic payment systems, smart contracts, NFTs, gaming, and DAOs. When tackling any of these areas, MME aims to ensure that their client complies with current laws and regulations regarding ICOs, crowdfunding campaigns, digital asset taxes, etc., in their respective jurisdictions.
Impressively, MME was responsible for representing the Ethereum Foundation and assisting them in creating their original setup in 2014, after which the firm has been central to the development of Crypto Valley as a whole. Aleph Zero has also opted to take advantage of the years of experience and in-depth knowledge of Web3 that MME represents to ensure that Aleph Zero can navigate the ever-changing landscape of crypto regulations. With such a team of legal professionals having our back, we are confident that we will be able to remain compliant with any laws that enter the space. For example, Aleph Zero's public sales were compliant with all rules regarding:
ICOs;
know-your-customer (KYC) laws;
anti-money laundering (AML);
and counter-terrorism financing (CTF).
These forms of compliance are required according to Swiss law as soon as a token can be issued on a blockchain.

Aleph Zero Will Continue Its Mission of Collaborating with Regulators
For the time being, Aleph Zero is in accordance with all Swiss laws pertaining to the Web3 space, although we are sure that newer legislation will be coming in the near future. We will continue to engage in an active dialogue with regulators because we believe regulations can have a beneficial impact on the crypto industry and be a catalyst for mainstream adoption. The progressive approach presented by the Swiss government serves as an example for all other legislative bodies to follow. We genuinely believe that this is the path governments worldwide will pursue in the coming years as Web3 solutions become more prevalent.