Aleph Zero Conference Tour 2022: September, October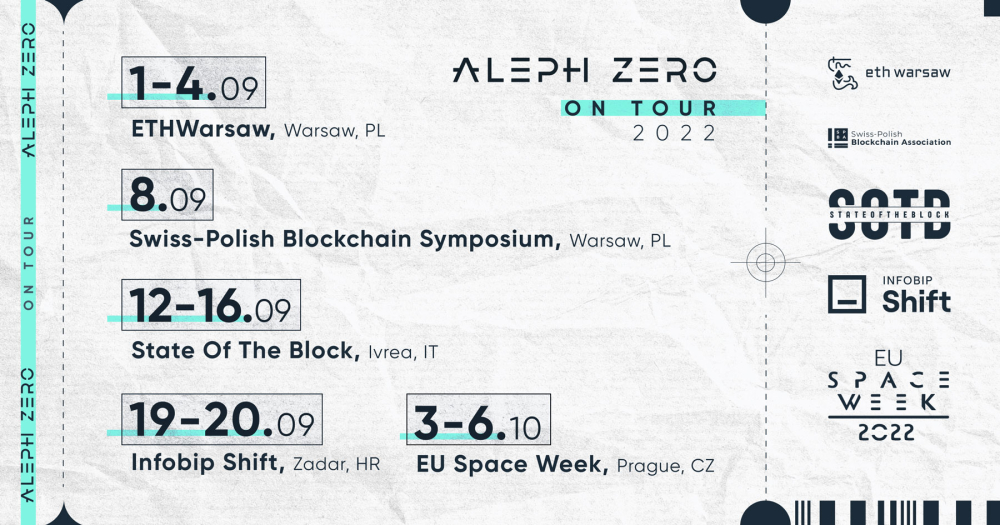 It's time to announce the first half of the Aleph Zero Fall Tour, which will take us to several cities and give the team a chance to meet other developers, community members, and opportunities to establish new partnerships.
ETHWarsaw, Warsaw 1-4.09

EthWarsaw is a community-led Web3 hackathon & conference in the CEE region that will occur between the 1st and 4th of September, 2022. The Warsaw-based blockchain community has been recently making waves in the world and now wants to invite developers and community members to take part in discussions and building our decentralized future. The Aleph Zero team will be setting up its own booth, allowing event attendees to interact with the team and ask questions about all things related to the project.
Additionally, Aleph Zero co-founder Adam Gągol will lead a talk on zero-knowledge proofs, multi-party computations, and privacy in blockchain ecosystems on the 2nd of September at 10:00 AM. On the very same day, Michał Świętek, together with Supercolony, will deliver a workshop and present a new tool for Solidity developers looking to explore the Substrate and Aleph Zero smart contracts: Sol2Ink. The workshop will take place on September 2nd between 5:00 and 6:00 PM.
We are proud to be an Ocean Level sponsor of this event as we firmly believe in supporting the local blockchain community.
Swiss-Polish Blockchain Symposium, Warsaw 8.09

Originally based in Zug, Switzerland, a region famous as a haven for numerous fintech startups, the Swiss-Polish Blockchain Association is dedicated to building bridges between the Swiss and Polish blockchain communities. Now, we are excited to announce that they are coming to Warsaw, Poland, for a day of exciting discussions and insights.
The conversations will include looking at blockchain technology and its' usage from various angles, for instance—its role in modern financial systems and how new technologies can serve in building more democratic societies. As part of one of the panels, Aleph Zero co-founder Antoni Zolciak will be joined by Prof. Tim Weingärtner, Marcin Kaźmierczak (RedStone), and Marcin Rzetecki (Bitcoin Association) to discuss building blockchain projects from both the scientific, as well as the business perspective.
State of the Block, Ivrea 12-16.09

This event is an invitation-only VIP event occurring in Ivrea, Italy, a small yet booming hub for blockchain innovation. The event is supported by:
Capgemini;
Capital has arranged for promotion in Forbes;
ENEL;
MindTheBridge is ensuring marketing support for the initiative;
Uphold is offering marketing, wallet support, event support, branding, and live streaming globally;
JNK Securities has pledged to arrange for the event to be video streamed on the Times Square live feed;
The Olivetti Foundation is behind the financing and logistics of this endeavor.
This 5-day event will be characterized by numerous panel discussions that will take place each morning and workshops for attendees in the afternoon.
Despite the private nature of the event, extensive live coverage will be guaranteed.
Infobip Shift, Zadar 19-20.09

Infobip Shift is the biggest developer event in Southeastern Europe hosted in Zadar, Croatia. Its mission is to bring together members of the global tech community; software engineers, product owners, founders, startups, and all kinds of IT professionals and enthusiasts. This 2-day conference is directed toward people passionate about software and aims to continue the tradition of delivering interactive and engaging content. The Aleph Zero Foundation is proud to be one of the sponsors of the event, alongside such names as Near, T-Mobile, Rapyd, VMWare, and Docker.
During the conference, Aleph Zero co-founder Adam Gagol will deliver a keynote speech on privacy in the blockchain space with a focus on zero-knowledge proofs and secure multi-party computations. Additionally, Michał Świętek will deliver an engaging workshop on programming smart contracts through the use of WebAssembly (WASM).
EU Space Week, Prague 3-6.10

This unique event is organized by the European Commission and the EU Agency for the Space Programme (EUSPA) in collaboration with the Czech Presidency of the Council and the City of Prague. EU Space Week's mission is to collect policymakers, industry leaders, start-ups, entrepreneurs, public authorities, investors, and users in one place and give them the opportunity to discuss the EU Space Programme.
The four days of the event will include plenaries, panel discussions, award ceremonies, and high-level keynote addresses. We are excited to take part in this discourse on the future of space travel as more and more use cases are being noticed in which blockchain technology can play a pivotal role.
Antoni Zolciak, Aleph Zero's co-founder, will discuss challenges and opportunities that the metaverse can bring to the broader space community as part of a panel titled: "Space and Metaverse in Action: Examples from Innovative Start-Ups." He will be joined in discussion with Joshua Becker, Deeper Technologies; Dario Vulanko, E20Green; Jonatan Domenech / Gustavo Dalmarco, Green Travel Spots; Wasim Ahmed, Metavisionaries. 
On the Road
We are excited by the potential these conferences possess to network and make new friends. We cannot wait to meet Aleph Zero community members, developers, teams, and thought leaders with whom we can share our thoughts on the future of the blockchain space. The time to build is now! See you on the road!