Michał Brański Joins the Aleph Zero Advisory Board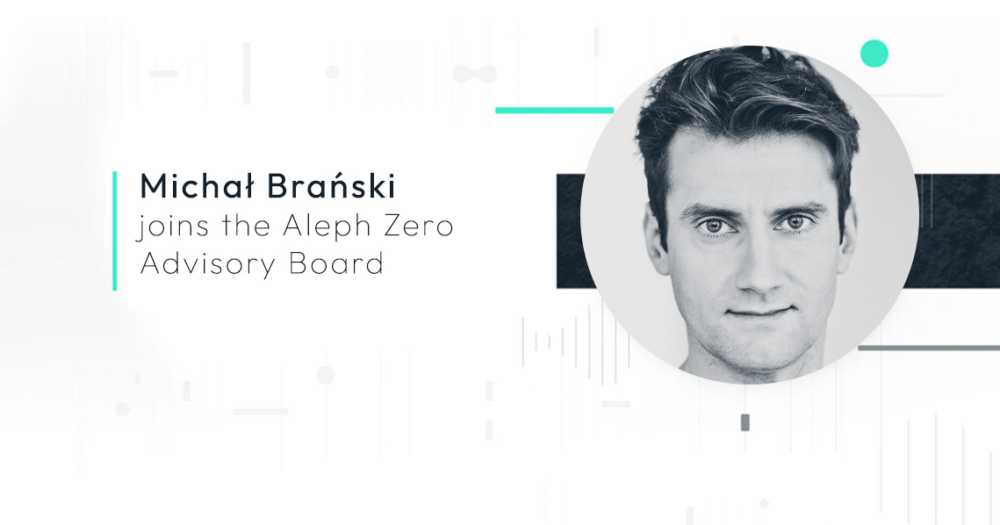 We are excited to announce the newest member of the Aleph Zero Foundation advisory board. Joining us will be Michał Brański to share insights on strategies behind building technology-focused organizations.
Michał Brański has years of experience spearheading the digital revolution in Poland, first as the co-CEO of Grupa o2 and nowadays as co-owner and Chief Strategy Officer at Wirtualna Polska Holding, one of the largest media conglomerates in Poland. The media giant owns numerous platforms frequented by tens of millions of unique users monthly, offering access to both news and entertainment in various forms.
Ever since Michał Brański joined Grupa Wirtualna Polska, he has been leading an ambitious and dynamic campaign to diversify its portfolio and actively seeks partnerships with promising businesses. Together with his business partners, Michał has also branched out into e-commerce, successfully entering the tourism, fashion, financial services, and healthcare sectors.
Over the years, Michał has been recognized by numerous business organizations and media outlets such as Forbes or MIXX Awards. Michał obtained his Master's Degree in Management and Marketing from SGH Warsaw School of Economics.
Powering Media Innovation Through Blockchain Technology
Besides impacting the world of finance, blockchain technology will positively disrupt the way we consume and interact with media in the coming years. Several key areas have been identified that can benefit from applying the technology, such as creating custom payment models, distributing royalties, monetizing C2C/P2P content sharing, and consuming paid content without national or regional boundaries.
Michał's experience on European markets speaks for itself. Together with his co-founders, he took a startup to a stage where acquisition of a major Polish media company, Wirtualna Polska, was made possible — where he's now leading the strategy on mergers and acquisitions. I'm certain that Michał can bring a unique perspective with his vast understanding of interactions between startups and the enterprise world. As one of the leaders of the Polish Web 2.0 era, he has a unique perspective on building technology-focused organizations.

Antoni Zolciak, co-founder at Aleph Zero.
Michał Brański possesses immense experience navigating the many challenges facing the media world. We hope to harness this tremendous experience to co-create a successful branding strategy for Aleph Zero in Central and Eastern Europe. Through his portfolio, he has come to represent the development of Web 2.0 solutions in Poland and is keenly looking forward to Web 3.0. We trust that his ability to develop ideas from scratch into influential movements will prove invaluable.