Smart Contracts to Debut on the Aleph Zero Testnet on June 22nd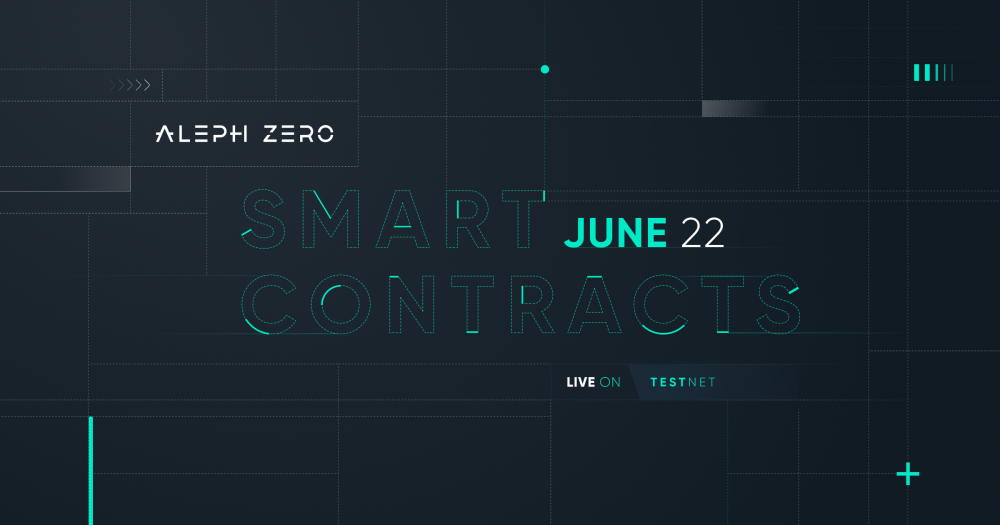 On June 22nd, smart contracts will debut on the Aleph Zero testnet. Here's what it means for the project and the broader community.
Starting June 22nd, smart contracts will be made available on the Aleph Zero testnet, following their experimental release via the Smartnet network on January 27th, 2022.
Aleph Zero smart contracts fact checklist
Aleph Zero Smart Contracts will be made available on the testnet on June 22nd, 2022;
Aleph Zero Smart Contracts programming language is ink!;
Once smart contracts in ink! are developed, they are compiled to Wasm and executed via the pallet-contracts engine;
Aleph Zero's team actively helps in developing the ecosystem via the Parity's Substrate Builder's Program;
If no major issues will be found on the testnet, the smart contracts will be moved to the mainnet within the next two months.
Use Rust and ink! to build the next big thing on Aleph Zero
To start, you will need to prepare your computer for development in Rust and ink!—similarly to how you might've already operated with the Smartnet. ink! is an embedded domain-specific language (eDSL) for writing smart contracts in Rust which then compiles to Wasm code. Thanks to years of work by the Parity team, ink! is definitely mature enough to release interesting applications—albeit it won't be as smooth of an experience as you might expect. The community should, however, expect significant improvements over time as the developments are occurring on several fronts and multiple teams are involved in the process.
The goals for the testnet release are similar to the ones for the Smartnet—although we put more emphasis on the stability and reliability of the smart contract layer. While the Smartnet release was aimed primarily at having the smart contracts in a separate environment and chaos was actually expected, the testnet release aims to be more stable and fit into our overall deployment pipeline.
Please note that the Smartnet will be turned off once the smart contracts land on the testnet.
Aleph Zero smart contracts mainnet release
It's next to impossible to predict the difficulties the network developers might encounter while deploying their applications on the testnet—after all, it's still a test environment.
By working closely with the external teams building on top of Aleph Zero—just as we did during the Smartnet phase—we will be able to react swiftly to all challenges that lie before us. Our rough, optimistic assessment for the mainnet release, taking into account the complexity of this update, would equal eight weeks of consecutive operational excellence on the testnet.
We are beyond excited to bring this next milestone to you—as well as start onboarding more teams to work on the adoption of Aleph Zero and, what's even more important, their own solutions.
Let the building commence.