Aleph Zero's AZERO now supported by Ledger in Developer Mode!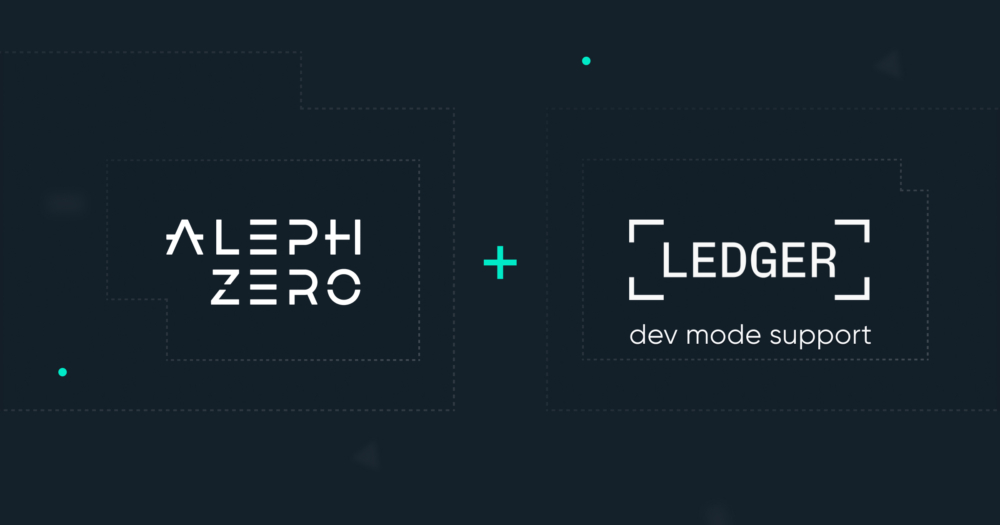 Aleph Zero's native coin, AZERO, takes a step closer to full integration with Ledger, pending audit results and Ledger's approval.
We have some exhilarating news for all the AZERO enthusiasts out there! As of today, Ledger, the leading hardware wallet company, supports Aleph Zero's native coin, AZERO, in developer mode. This marks a significant milestone in our ongoing efforts to increase the accessibility and security of AZERO coin management for our users.
For those new to the concept, Ledger is a world-renowned hardware wallet provider, known for its cutting-edge security solutions. With this integration, our community members can now manage their AZERO coins using Ledger's secure hardware wallets, providing additional protection against hacks, malware, and other digital threats.
This exciting development would not have been possible without the dedication and hard work of Zondax, the software firm responsible for the integration. The Aleph Zero team would like to express our gratitude to Zondax for their expertise and commitment to bringing this milestone to fruition. Specializing in building back-end tech solutions for blockchain ecosystem projects, Zondax, throughout its existence, has managed to explore blockchain bridge building, protocol, and exchange integration. This broad experience provides Zondax with a varied portfolio of services for projects such as Filecoin, Blockstack, Ledger Live, Trustwallet, etc.
Please note that this integration is currently available only in developer mode, as the official release is pending a security audit and Ledger's acceptance before being admitted to Ledger's public release. A security audit will ensure that the AZERO coin integration meets the highest security and reliability standards. Once the audit results are released and any necessary modifications are made, we expect the integration to be available to the general public.
To access the AZERO coin integration in developer mode, users must have a Ledger device (either a Ledger Nano S or Ledger Nano X) and follow the instructions on Ledger's website. While this mode is intended for developers and advanced users, it offers an excellent opportunity for our community members to familiarize themselves with the process and share their feedback to help us further refine the integration.
We are thrilled about this new development and its potential for increased adoption and utility of AZERO coins. We want to extend our gratitude to the Ledger team and Zondax for their support and collaboration and to our amazing community for your continued enthusiasm and trust.
Stay tuned for more updates on the official release, and please don't hesitate to reach out with any questions, concerns, or feedback regarding the AZERO coin and Ledger integration. Together, we will continue to build a more secure and decentralized future.