Aleph Zero Global Decentralization Tour: November 2022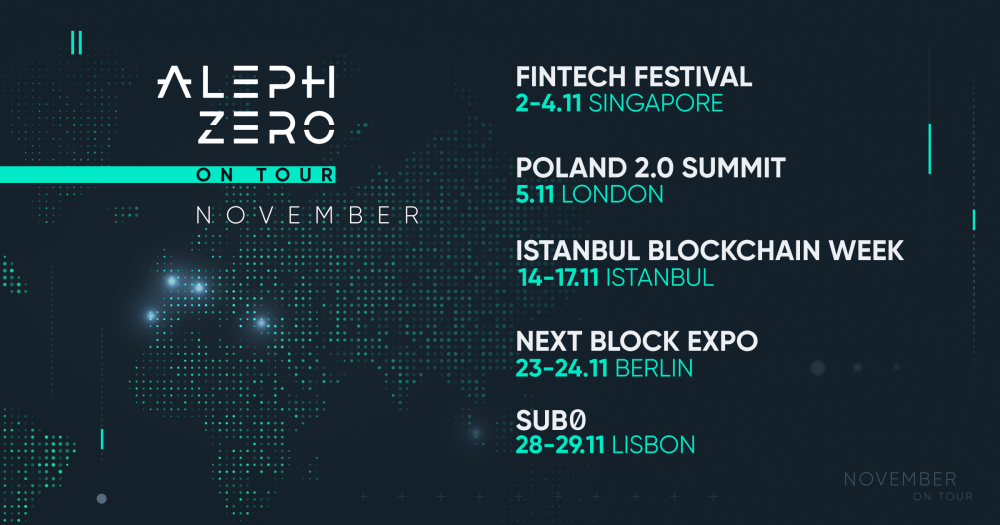 The last quarter of the year is getting off to a dynamic start with the Aleph Zero team attending a series of conferences that span from Lisbon to Singapore. Let's take a look at where we are heading and what to expect!
FinTech Festival, Singapore 2-4.11

Aleph Zero has been selected as the winner of the European Fintech Hackelerator and became one of the finalists of the Global Fintech Hackcelerator. Both of these events have been organized by the Monetary Authority of Singapore, resulting in us heading to Singapore with our message of "compliant privacy in web3."
The FinTech Festival will bring together 20 other organizations that will be privy to having their applications fast-tracked by the Singapore Monetary Authority Financial Sector Technology and Innovation Scheme to develop a Proof-of-Concept that can be used on both the government and enterprise levels. Other organizers include Elevandi, Constellar, and the Association of Banks in Singapore! Last year's edition attracted 60,000 participants from 160 countries, making FinTech Festival the largest event of its kind.
Poland 2.0 Summit, London 05.11

Geared toward jump-starting the career of young Polish students from all over Europe, Poland 2.0 Summit has been occurring since 2015. The conference believes in facilitating connections between the most exciting innovations currently happening and young professionals who are placing their first steps in the exciting worlds of law, finance, health, energy, and technology.
This summit is a valuable place for company representatives to recruit motivated and tech-savvy professionals while also gaining insight into the changes occurring in the Polish labor market. As attendees of the conference, Aleph Zero's very own Piotr Moczurad will be leading a workshop on the 4th of November on smart contracts.
Istanbul Blockchain Week, Istanbul 14-17.11
The largest event of its kind in Turkey, Istanbul Blockchain Week is a unique opportunity that draws over 3,000 attendees interested in the dynamically evolving Turkish Web3 scene. The rich tapestry of events prepared for the conference includes over 100 keynote speakers, an exhibition area boasting some of the most exciting projects in the industry, workshops, and numerous networking opportunities.
Next Block Expo, Berlin 23-24.11

Happening in Berlin between the 23rd and 24th of November, Next Block Expo is the first edition of a conference that aims to make its mark on the European Web3 event map. Next Block Expo will boast over 5,000 in-person attendees and 10,000 online attendees. The event will host more than 100 exhibitors and sponsors, while 50 keynote speakers will deliver the latest insights into the burgeoning Web3 space.
We are proud to announce that Aleph Zero is a diamond sponsor for the event and a gold sponsor for the Hackathon. Additionally, Adam Gągol will be present at the event both as a speaker and panelist, while Piotr Moczurad will deliver a workshop about ink! Keep an eye out on our social media because we intend to announce free tickets for developers!
Sub0, Lisbon 28-29.11

The final conference that we will attend in November is Sub0, an event specifically geared towards developers building at every level of the Polkadot tech stack. This broad offer is enticing for teams that are building everything from custom layer-1 blockchains, dapps, smart contracts, infrastructure, tooling, cross-chain interoperability solutions, and more.
As part of this celebration of all things Polkadot, Aleph Zero's very own Piotr Mikołajczyk will be leading a talk titled "How To Sleep At Night As A FRAME Developer: Ultimate Testing Strategies." Be sure to catch him speaking on the 28th of November at 13:45! We are keen to take part in this event as it actively promotes our vision of a multi-chain Web3 world and gives an opportunity for Polkadot and Substrate developers to connect with each other as we continue to build.
Building a Global Web3 World
One of the most exciting aspects of this latest lineup of conferences is its global character. We are thrilled to be heading to so many diverse and different places that are united by a passion for emerging technologies and progress. It's the perfect time for creative minds to meet as we forge ahead with building the Web3 world. See you soon!