Butterfly Protocol to Build a Censorship-Resistant Naming System on Aleph Zero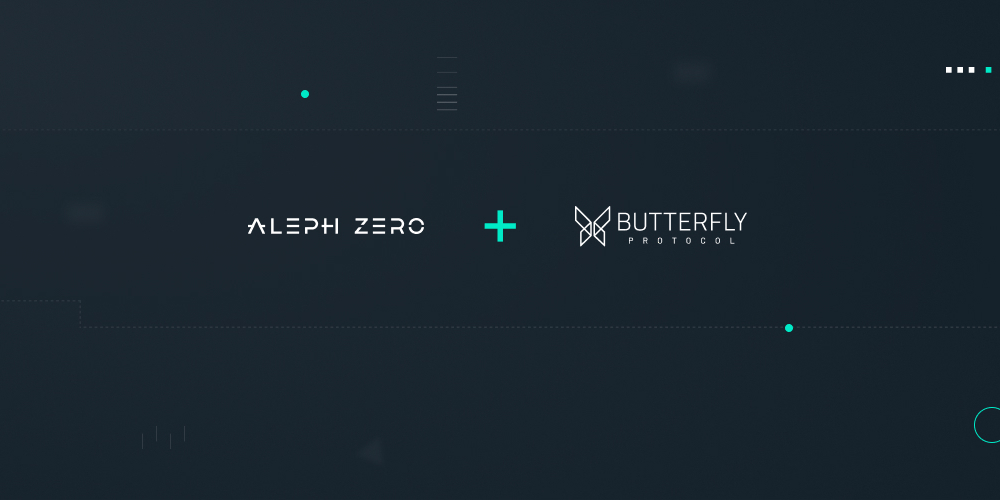 We are excited to announce Aleph Zero's partnership with Butterfly Protocol, a platform that aims to build a Domain Naming System (DNS) on Aleph Zero.
Our collaboration with Butterfly Protocol stems from the need to create a naming service for wallet addresses, hashes, and other machine-readable identifiers that will live on the Aleph Zero blockchain and transform these difficult-to-read data strings into easily readable addresses. This move will ensure a more straightforward user experience for those developers who will build upon the Aleph Zero infrastructure. Also, as we begin to eye our own engagement with the metaverse, Butterfly Protocol's unique skillset will support our efforts and make it simpler to engage with this exciting new development in the Web 3.0 landscape.
What's in a Name? Butterfly Protocol's Unique Characteristics
Butterfly Protocol is taking an active part in the discourse surrounding Web 3.0, positioning itself as a decentralized autonomous organization that is focused on bringing the most robust naming environment imaginable by replacing the Domain Name System (DNS) system currently employed by web users. By ensuring that website domain names are stored on an immutable blockchain ledger, Butterfly Protocol aims to overcome the challenges website owners face when dealing with entities, such as state actors, who may be tempted to introduce censorship.
Redefining Online Ownership
Websites founded on Butterfly Protocols blockchain will actually belong to the owner forsaking the model of third-party intermediaries who currently facilitate website hosting. Additionally, current online naming systems limit users to simple ASCII characters. With Butterfly, you can use characters from every imaginable language as well as emojis. In a push to simplify interaction with websites and their owners, Butterfly allows users to connect the website's domain name with other tools found in the Web 3.0 world by allowing your website's name to be connected to a secure messaging service or your crypto wallet. BFLY is the platform's ERC-20-compatible native utility token built on the Ethereum (ETH) blockchain. It is used to sponsor the creation of new top-level domains (TLDs). Token holders can receive 15% of the airdrop of ERC-20-compatible tokens created with each domain.
About Aleph Zero
Aleph Zero is an enterprise-ready, high-performance blockchain platform with a novel, Directed Acyclic Graph (DAG)-based consensus protocol that has been peer-reviewed and presented at an ACM conference. To date, Aleph Zero raised $15m for continued development, integrating with the Substrate stack, and expanding the team. In 2022, Aleph Zero plans to enable privacy-enhancing features based on secure multi-party computation research and zero-knowledge proofs.
About Butterfly Protocol
The Butterfly Protocol is intended to be a decentralized autonomous organization (DAO) that focuses on bringing the most robust naming environment to the decentralized internet.
Butterfly Protocol was built to allow anyone in the world who has an internet connection to access and create content and applications without fear of censorship. Its leaders guide more than they dictate the future of what Butterfly can be. With a combination of proprietary and open-source tools and platforms, Butterfly allows anyone to participate by sponsoring top-level domains, creating dapps, and more.
Join Butterfly Protocol's Community