Introducing the 50M USD Aleph Zero Ecosystem Funding Program to Fuel Web3 Scalability and Privacy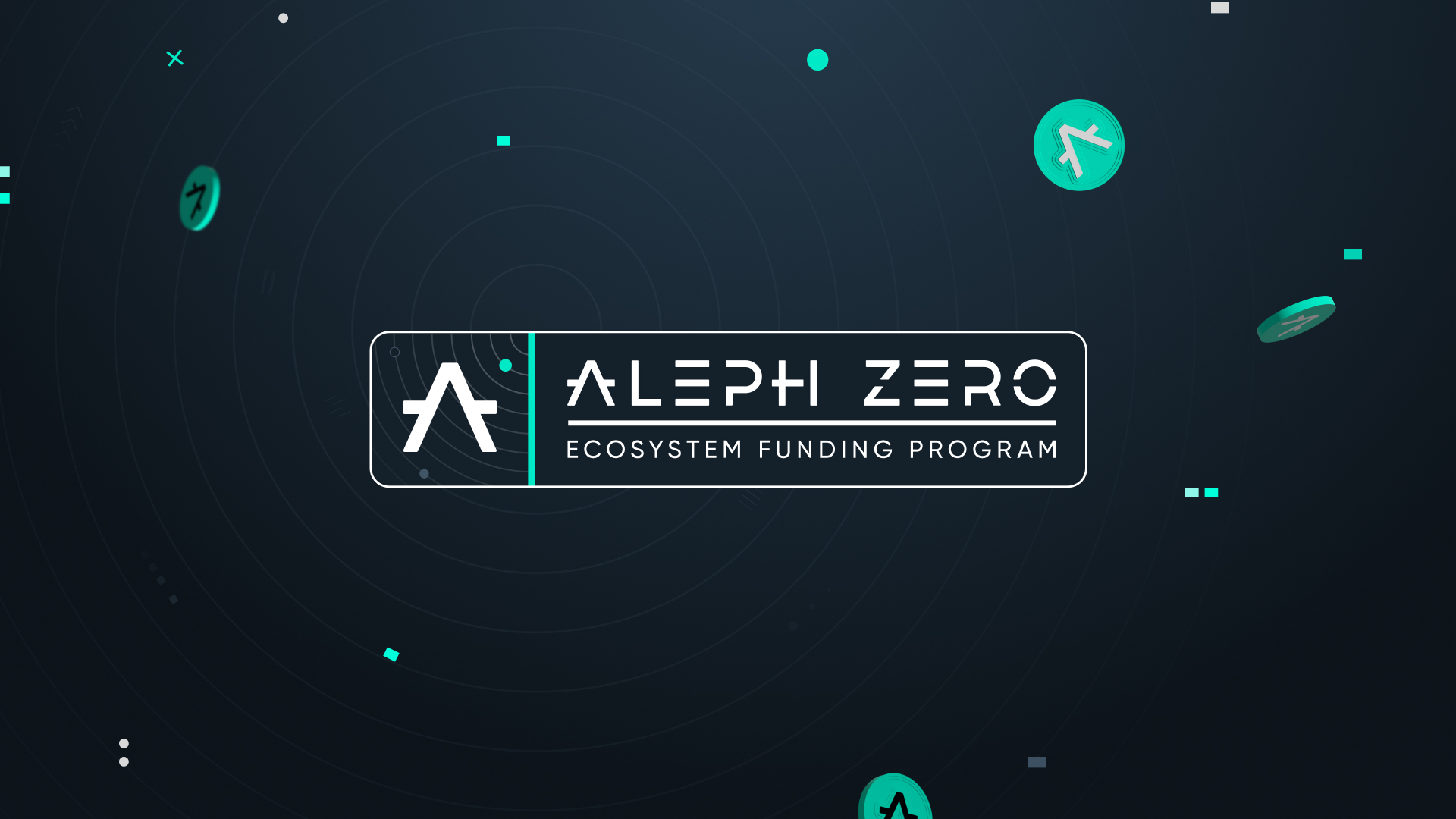 Aleph Zero Foundation and its partner network are pleased to present an initiative to support developers in bringing adoption to Web3 through the Aleph Zero ecosystem. Let's dive into the details.
Ever since a public conversation and following regulations put emphasis on our right to remain private digitally, the Web3 community has been actively pursuing ways of retaining privacy in a transparent setting of blockchain.
While maintaining privacy is essential, the benefits of the transparent nature of blockchain cannot be overlooked. All this should come without sacrificing decentralization, security, compliance, and seamless user experience. This is what Aleph Zero has been made for.
We are pleased to announce that Aleph Zero Foundation and its partner network have introduced the Ecosystem Funding Program that will support developers and founders on multiple fronts, to help them succeed while pursuing ideas that contribute to the adoption of Aleph Zero and share the vision for scalability combined with the right balance of transparency and privacy in Web3 products.
What is the Aleph Zero Ecosystem Funding Program?
The Ecosystem Funding Program consists of a $50 million pool of grant and follow-on funding for innovative projects building on the Aleph Zero blockchain. The goal of the program is to ensure ongoing development of the network while ensuring enough support for builders of all shapes, sizes, and backgrounds.
There are three crucial components of the program:
Grant program by the Aleph Zero Foundation
Incubation by the partner network
Follow-up angel and venture capital investments
Each participating project can receive grant funding of up to $500,000 along with access to the Aleph Zero Foundation's venture capital pool and the network of incubator partners.
The main differentiator of EFP is to provide holistic support for the projects, and funding is just the beginning.Projects within the EFP can seek incorporation support through operational, and fundraising structuring workshops, as well as receiving assistance with front-end development, UX design, branding and marketing, and more. All the resources are available to teams with ideas on almost all stages of development.
Part of this support will include up to $100,000 worth of credits with the AWS Activate program. Besides AWS credits, enrolled projects receive AWS Business Support credits as well as access to the AWS Activate console and AWS Technical Support.
Likewise, Aleph Zero has partnered with Kudelski Security to provide projects with code audits and holistic cybersecurity support. This will provide an important advantage in ensuring that each project counts on the necessary security and robustness checks that strengthen the whole ecosystem.
The idea behind the EFP
The idea behind Aleph Zero's Ecosystem Funding program has been laid out well by Magda Oleksy–Ecosystem Lead at Aleph Zero–in an opinion editorial on CoinDesk. We believe that what Web3 developer teams need is not getting more funding from grant programs. It's getting
"Proper coaching and support is more necessary than ever precisely because of the experimental, interconnected and fast-paced nature of the space. Builders need as much help as they can get when it comes to the how-to knowledge and network effects needed to get a project off the ground."
This approach is even more important in the Web3 industry, where timing makes a difference and adding funds to a project's treasury is not the answer to all the challenges faced by the teams.
Web3 funding programs should make sure their candidates are set up for success by supporting them on a number of different ends besides funding. This is the one.
Already on Aleph Zero
There's never been a better time to start building in Web3. The scalability improvements and privacy-preserving features of the Aleph Zero blockchain have never been more important to the growth of the space, and so many builders are aware of it.
The Aleph Zero ecosystem already supports a number of projects working on important developments:
Abax: A lending protocol based on liquidity pools or lending pools and innovative risk management model written in ink! for substrate-based blockchains.
ArtZero: An NFT marketplace built on Aleph Zero that grants users quick and easy access to digital collectibles.
AZERO Domains: Aleading domain name service on Aleph Zero.
DRKVRS: A unique metaverse experience designed by world-renowned writers and producers, Łukasz Orbitowski and Marcin Kobylecki.
Gatenox: A new-generation decentralized identity wallet that allows exchanges, applications, Web 3.0 services, as well as fintechs and banks to integrate a seamless, near-zero cost, instant Know-Your-Customer (KYC), Anti-Money Laundering (AML), and Customer Due Diligence (CDD) processes.
Interlock: A decentralized security platform that delivers Web3-centered solutions to combat cybercrime by allowing users to share anonymized data regarding online threats and rewards them through Interlock's native token.
Syncra: A no-code solution for creating privacy-enhanced DAOs using Aleph Zero and Liminal.
Metamask Snap: An extension of MetaMask's capabilities that onboards users to the Aleph Zero network.
Start Building on Aleph Zero
We're excited to support the Ecosystem Funding Program and have already made contributions to a number of Aleph Zero project. With prior experience in building and exiting companies, as well as working with a number of enterprise customers, we're looking to support developers holistically—beyond simply providing funding.


Maciej Skrzypczak, partner at Block54 Capital and advisor to the Aleph Zero team
Thanks to Aleph Zero's support, we were able to secure investors who fully align with the vision of Aleph Zero for our pre-seed round. Aleph Zero's team has worked closely with AZERO Domains since we entered the program, providing mentorship, guidance, and resources to help us successfully reach the next stage and grow a sustainable initiative.


Mike Schneider, co-founder of AZERO Domains, a hackathon-winning project
This is only the beginning. Join us as we continue to build a scalable and privacy-preserving ecosystem. Apply for the Aleph Zero Funding Program today!
To find out more about building on Aleph Zero before you apply, you can visit our Dev Portal, or stay in touch with the community.