Monthly Update: August/September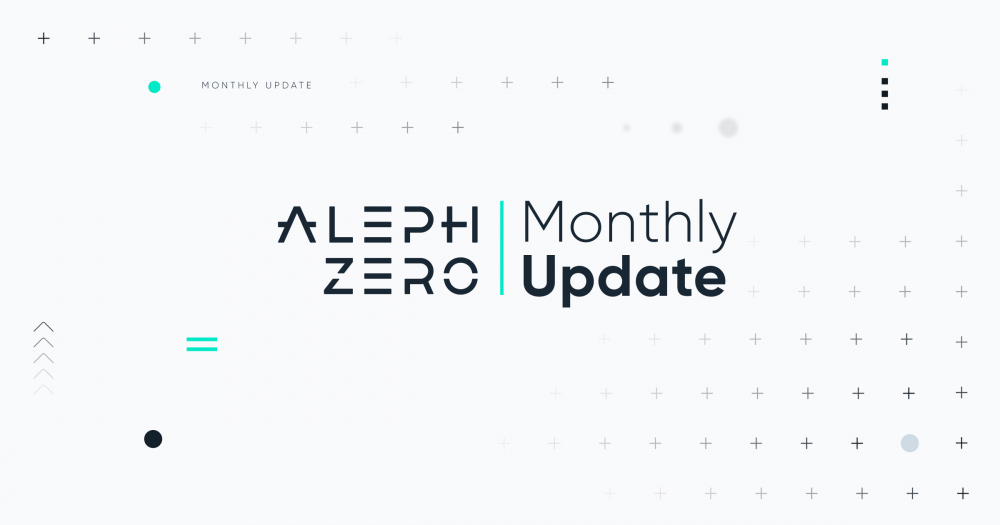 August and September of 2023 were a crucial time for Aleph Zero: we've published the new visual identity for Common and publicly announced our involvement in the idOS. Read on to learn more about what we got up to at the end of Q3!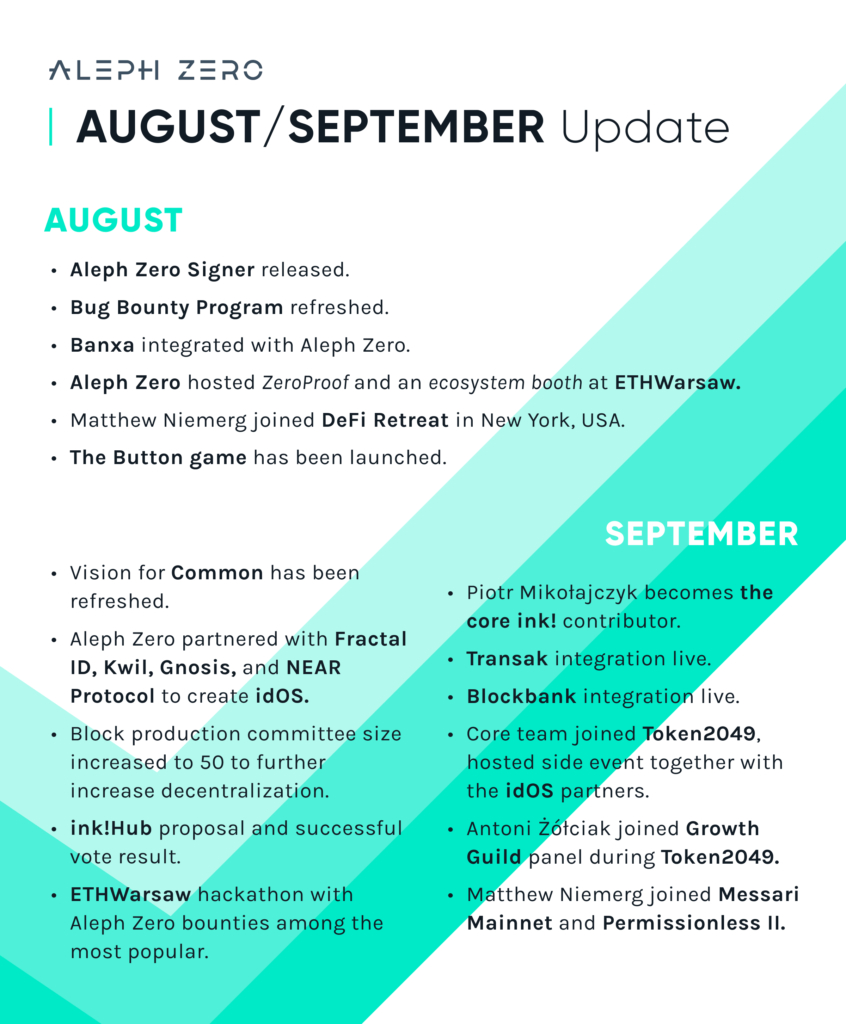 Aleph Zero Signer release
At the very beginning of August, Aleph Zero Signer became available in web stores! Signer is a browser extension that can be used to manage your accounts and sign transactions. With built-in security tips and signature Aleph Zero style, it's a must-have tool for interacting with the ecosystem!

Bug Bounty Program relaunch!
After a long wait, the Aleph Zero Bug Bounty program with ImmuneFi has been relaunched! Not only that, but it has been revamped! Included in the new program are a new set of guidelines, refreshed scope, and up to $50,000 rewards in USDT, USDC, and AZERO!
Banxa integration
AZERO is now available on Banxa. Banxa is a leading Web3 onboarding platform with purchases available in multiple currencies. Supported by applications the likes of Ledger, KuCoin and MetaMask, Banxa is sure to push forward the adoption of the Aleph Zero utility coin.
ETHWarsaw Ecosystem Booth and ZeroProof event
At the end of August (and into the first day of September), we hosted an ecosystem booth at ETHWarsaw! The booth served as a place for people to come chat with us and our most promising ecosystem projects in the same place!
Additionally, we hosted the official opening party for ETHWarsaw with the same friends who joined us at the booth. The event featured live demos and showcases of Aleph Zero use cases, networking with fellow builders, and everything from classic console games to psychedelic mini-golf, with prizes for winners. For entertainment, there were live music performances from Aleph Zero's Pete Urinsky, a specialized cocktail menu, ZKaraoke, and more!
Both the booth and event were a huge success, and we intend to repeat them in future.

A special thanks to:
AZERO.ID
Just Ape
Abax
DRKVRS
Invariant
Web3 Devs Poland
Nightly
Upcade
Syncra
Interlock
Block54
…and everyone who came by to meet us!
Matthew Niemerg at DeFi Retreat
Aleph Zero's Matthew Niemerg attended the DeFi retreat in New York on the 29th of August. There, he participated in a discussion about DeFi trends with Matt Homer, Ethan Parker and Bouchra Darwazah
Previously, Antoni Żółciak joined the European edition of DeFi Retreat in October, 2022.
The Button launch
On August 10th, AZERO stakers were airdropped tickets to a mysterious game. The game was revealed to be The Button, a smart contract based game on the Aleph Zero network inspired by the famous game and social experiment by Reddit. With three unique game modes and hidden strategies that may be revealed by diving into the game's code, the game served as both an example of the blockchain's capabilities and a curious yet engaging experience for the Aleph Zero community.

As of writing, the first round of Early Bird Special (one of the gamemodes) is over and the "Pressiah" of the round received a whopping 111,719 UBIK, traded for over 2,300 AZERO. Congratulations to this special player! For everyone else, good luck in future rounds!
Common revision
Midway through September, Common's new vision was revealed to the public. Reimagined as a suite of products as opposed to a singular one, newly announced features include a DEX aggregator, privacy-enhanced order book and compliance powered by integrations with Coinfirm and idOS.
There's more information on the way soon, so keep an eye out on our announcement channels!

Check out the updated teaser website
idOS public announcement
On the 7th of September, Aleph Zero announced our involvement in an upcoming open-source, decentralized, and composable Web3 identity layer with privacy-enhancement. We're co-creating the project with Fractal, Kwil, NEAR and Gnosis. At its core, the idOS is a dStorage Network of Nodes and an access management protocol which seeks to enable a user-owned internet.
More details will be disclosed soon, so stay tuned!

Check out the landing page
Committee size increase
In early September, it was revealed that the block-producing committee of the Aleph Zero network had been increased to 50 out of 125+ validators on the testnet. After two weeks of testing, the update went live on the mainnet on the 22nd. Only 10 of these nodes belong to the Aleph Zero Foundation, meaning that the majority of the process is now handled by the Aleph Zero community! This is a significant step towards the full decentralisation of the Aleph Zero network, and a move towards on-chain governance.

Watch the explainer video
ink!Hub proposal and successful vote
On September 11th, we announced that we would be teaming up with Astar Network and Phala Network to create a set of tools that would streamline the building process and support development teams. We are happy to say that the vote was successful, with 59.5% of voted DOT in support of the funding proposal. This is a great step forward for ink!

Check out the proposal
ETHWarsaw Hackathon
In addition to our Ecosystem Booth and ZeroProof event at ETHWarsaw, we also participated in a hackathon! Running from September first to third, teams were invited to build innovative new Web3 products. We're glad to say that our bounties were among the most popular at the event, with four teams winning prizes.
Learn about the winning products
Piotr Mikołajczyk added to ink! repository
In a massive show of support for Aleph Zero, core developer Piotr Mikołajczyk was granted approval/write access to the ink! repository by Parity Technologies. Piotr is the first non-Parity team member to obtain these rights.
Transak integration
At the beginning of September, AZERO was integrated with Transak! Available in 160+ countries and supported by cards, bank transfers and even 20+ local payment methods, this integration will increase the availability of AZERO on a global scale.
Learn more about this integration
blockbank integration
On the same day as the Transak integration, Aleph Zero was added to blockbank's DeFi arsenal! This integration adds to the plethora of available wallet options for holders of AZERO.

Learn more about this integration
Mainnet 11.3 update
At the end of July, the Aleph Zero team concluded the Mainnet 11.3 update. The update improved network stability and block production. Additionally, block finalization speed has been slightly improved!
Aleph Zero at Token2049
Between September 13th and 14th, core team members Antoni Żółciak, Daniel Ozluer, Nick Fisher and Piotr Saczuk attended Token2049 in Singapore. Additionally, we hosted a side event called Bullseye! with our friends Fractal ID and Kwil! The conference and side event were both a blast and we discovered many potential synergies with projects and companies in Singapore.
ink! workshop with Piotr Mikołajczyk
On the 19th of September, Piotr Mikołajczyk hosted an ink! workshop with Sam Ruberti and German Nikolishin at Sub0 in Lisbon. During the workshop, participants had the opportunity to learn how to write basic smart contract logic using ink!, test it using different testing methodologies and deploy it on a testnet. The workshop ended with a game competition with three ink! NFTs as prizes. Thanks to everyone who joined the workshop!
Antoni Żółciak at Growth Guild
During Token2049, the Aleph Zero team joined the side event Growth Guild by AlphaLab Capital. A variety of topics were covered at the event, with speakers from a vast array of companies associated with the industry—from bridges to market makers, from corporates to on-ramps, from security to consulting. Antoni Żółciak joined a discussion focused on strategies behind customer acquisition and partnerships, as well as optimising conversion and retention in Web3.
Matthew Niemerg at Permissionless II
From the 11th to the 13th of September, Aleph Zero co-founder Matthew Niemerg attended Permissionless II in Austin to connect with interested parties and discuss all things Aleph Zero. Thanks to everyone who showed interest in learning about the latest developments!
Matthew Niemerg at Messari Mainnet
In a similar fashion Matthew also attended Messari Mainnet in New York to meet with Aleph Zero investors and community members. Thanks to everyone who approached him to discuss the exciting future of the network!
Antoni Żółciak at ETHWarsaw
On the first day of September, Antoni Żółciak participated as a speaker in a side event called Pints & Peanuts. Powered by Peanut Protocol, the event ​featured discussions about onboarding, UX, scalability, mass adoption, multichain and crosschain.