Aleph Zero Monthly Update: AWS Activate, bridges,  and ink! 4.0 beta on testnet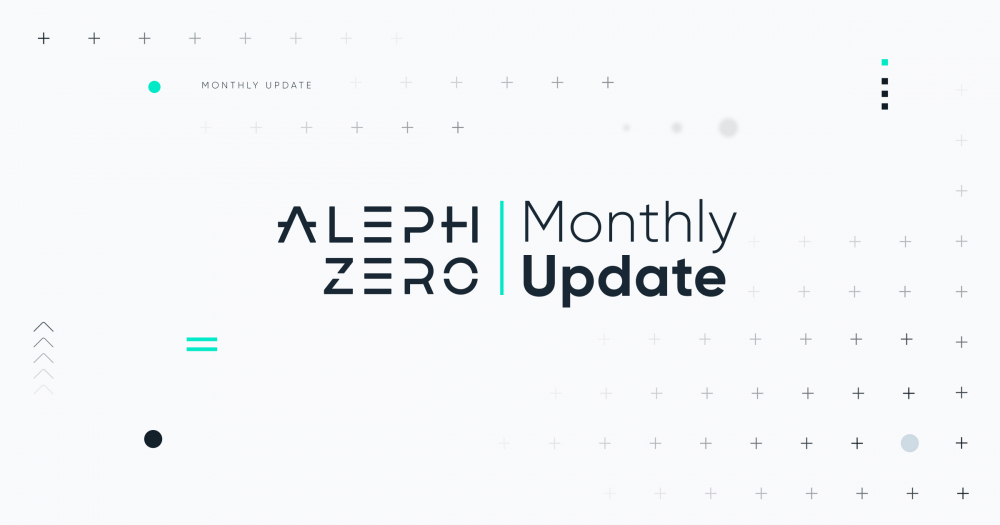 In January, we made significant progress on the partnerships front, as well as moved forward with bringing better UX to the ecosystem. Here's all that happened in 2023 so far!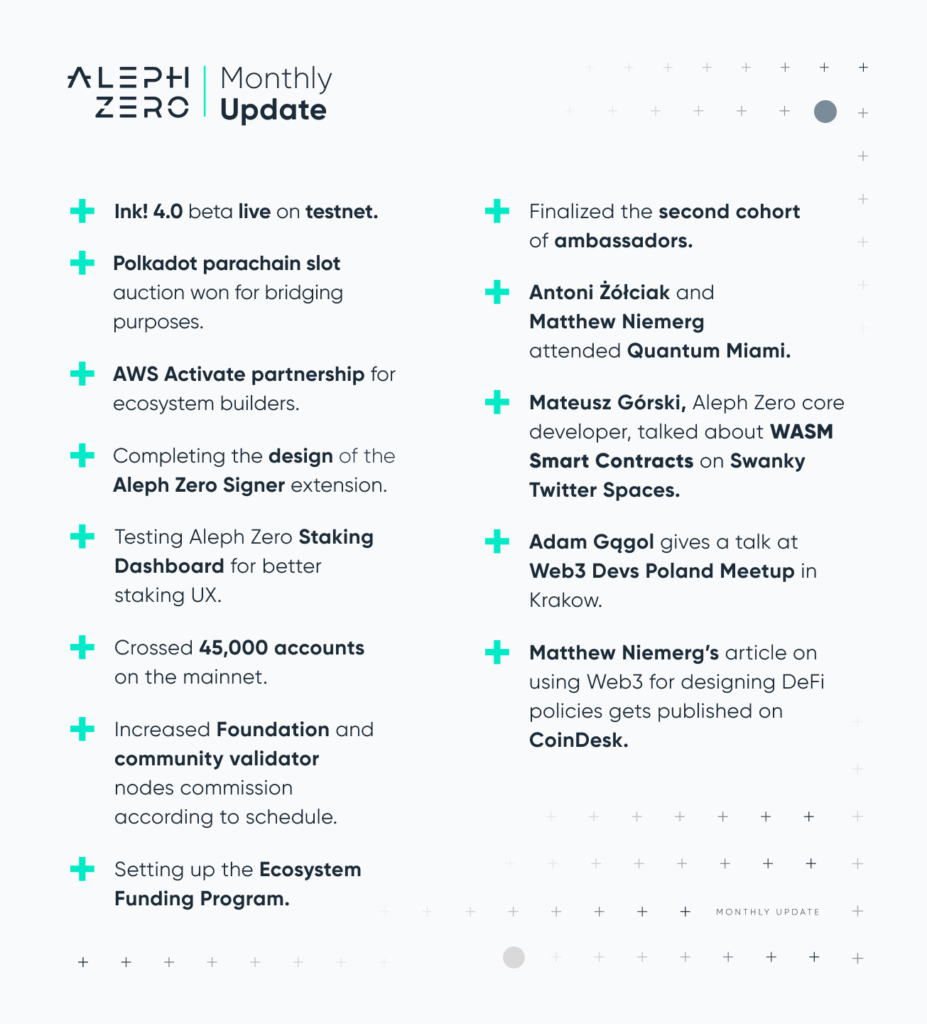 Ink! 4.0 beta on testnet
Upgrading ink! on the testnet has been a major step towards introducing smart contracts on the Aleph Zero mainnet. Since there is no backward compatibility between ink! 4.0 and ink! 3.4 which we've used previously, the update has also influenced all the builders developing their projects on the testnet. They had to update their code to the new standard, but only once–from now on, smart contracts deployed on the testnet will be backward-compatible and are built in the same way that'll be required for the mainnet deployment.
Learn more about the testnet update details
Polkadot parachain slot auction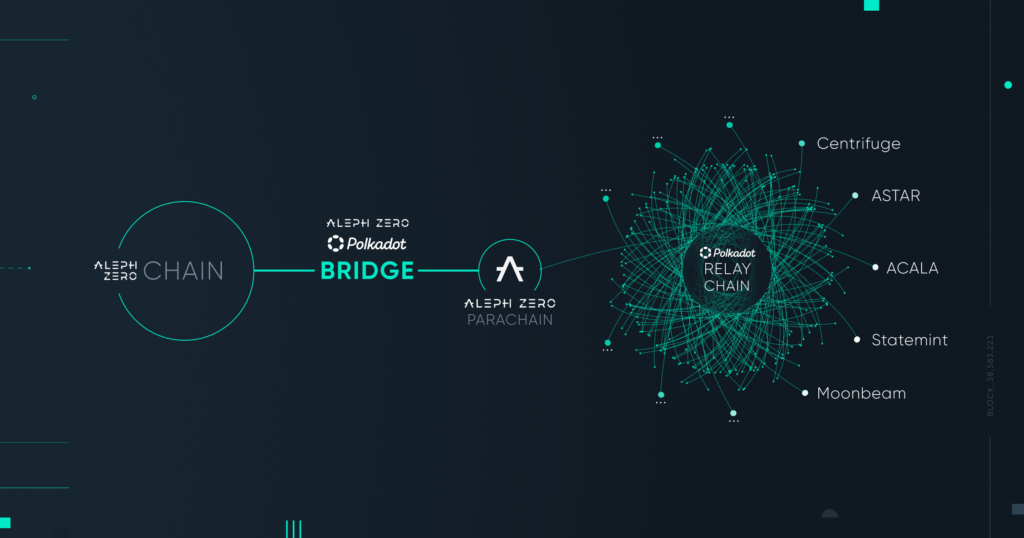 The slot lease period is set for February 13, 2023–December 18, 2024. The auction has been won for 25,000 DOT which equals around 100,000 USD at the time of auction.
Aleph Zero has secured a Polkadot parachain slot to be used purely for bridging purposes between Aleph Zero and Polkadot ecosystem. The planned design with transactions verified by both Aleph Zero mainnet and Polkadot Relay Chain will be more secure than a smart contracts-based approach. Here's why Aleph Zero itself won't be a parachain. 

Learn more about the Polkadot parachain auction details
AWS Activate partnership
Amazon Web Services (AWS) will support Aleph Zero builders via the Activate program as part of the coming Ecosystem Funding Program. It means that projects will receive cost-free or subsidized infrastructure credits worth up to 100,000 USD to be spent on the AWS infrastructure, along with other benefits.
Learn more about the AWS Activate partnership in this article
Completing the design of the Aleph Zero Signer extension
We want to create a better user experience in the ecosystem, building more user-friendly ways of interacting with the chain. The first step in that direction will be a dedicated extension Aleph Zero Signer. The extension will be audited before the official release.
Testing Staking Dashboard
To the point of improving the UX, we have also built a staking dashboard for easier nominating through direct staking and nomination pools. We have concluded the testing phase together with Aleph Zero Ambassadors and are preparing for a February release.
45,000 accounts on the mainnet
It's been great to witness steady month-to-month growth when it comes to active accounts on the mainnet. In January, we crossed a round number of 45,000 holders. Today, it's already over 46,000.
Increased Foundation and Community nodes commission
To further incentivize the decentralization of Aleph Zero, we have increased the commission on Foundation nodes to 8%. The minimum commission for community validators has been increased to 4% to further incentivize external validators. This is aligned with the schedule announced earlier in December on Discord. We will continue to increase the commission on nodes run by the Aleph Zero Foundation until at least 50% of the total funds is staked with community validators.
Setting up the Ecosystem Funding Program
In January, we put the details behind the coming Ecosystem Funding Program that will support builders in the Aleph Zero ecosystem. Stay tuned for announcements this quarter.
Finalized the second cohort of ambassadors
We have welcomed the second cohort of Aleph Zero Ambassadors that will contribute to growing the community.

Learn about the new ambassadors here
Antoni and Matthew at Quantum Miami
Aleph Zero co-founders, Antoni Żółciak and Matthew Niemerg, have joined Quantum Miami to meet the blockchain community and partners. Thank you for all the insightful conversations!
Mateusz Górski on Swanky Twitter Space
One of the Aleph Zero core developers, Mateusz Górski, has joined Swanky in a Twitter Space covering all things about WASM smart contracts. Mateusz touched upon a broad range of topics, including the need to build better products regardless of the underlying tech, shared some insights on how Liminal will differ from other privacy frameworks, and shed the light on how Aleph Zero will be positioned in the Dotsama ecosystem.
If you're interested in these topics, that's a must-listen!
Adam Gągol at the Web3 Devs Poland Meetup
In January, Adam Gągol engaged in the Web3 Devs Poland Meetup organized in Kraków, Poland. He gave a tech intro to the ZK technology, privacy, and regulations in crypto to the developers active in the Web3 space in Poland.
Matthew Niemerg featured on CoinDesk's Policy Week
Matthew Niemerg has shared his opinion on designing DeFi policies in CoinDesk's Consensus Magazine as part of the Policy Week series. The key points covered how Web3 itself can be effective in enforcing compliance policies.
If you haven't seen it, do read Matthew's publication on Coin Desk!