A look into ETH Warsaw ZEROPROOF 2023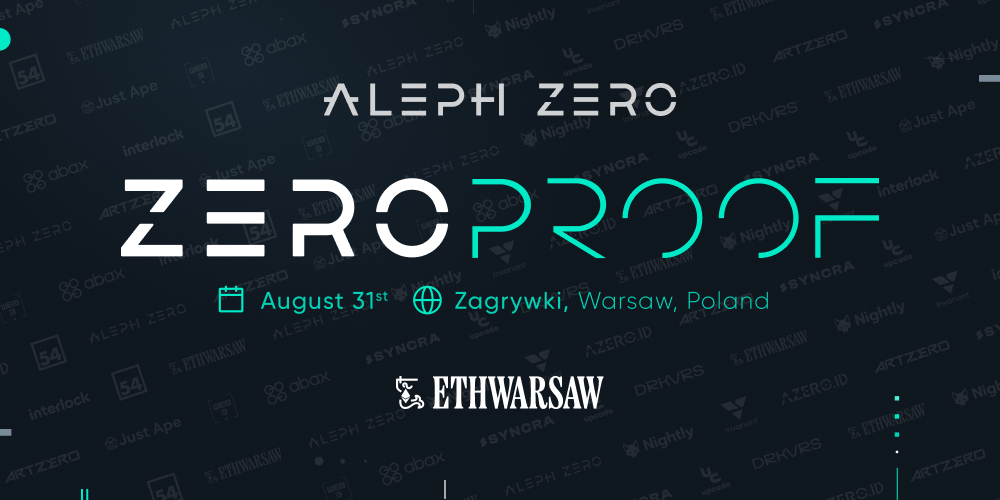 ETHWarsaw is already long behind us, yet the memories remain! Here is a short summary to take you back to the event, particularly the ZEROPROOF party, which brought together over 800 Web3 builders.
ETHWarsaw played out between August 31st and September 3rd, showcasing a who's who of Web3 projects (including the Ethereum Foundation, zkSync, Ledger, Aleph Zero, DRKVRS, and others) who joined together to educate, hack, network, and party in the Polish capital.
Throughout the conference, Warsaw was the Web3 capital of the CEE region. Check out how ETHWarsaw went for Aleph Zero
Hackathon
The hackathon went for Aleph Zero! Our bounties were among the most popular at the event, with four teams winning prizes.
Here's what they built during the two-day hackathon:
Smart Beaver – a tool for creating ink! smart contracts
This project is very useful for anyone who wants to issue a PSP-22 token or another contract on Aleph Zero. It's so simple, you could call it no-code.
TCP? – A drink-pouring machine powered by Aleph Zero smart contract.
The project stood out with creativity, coming out of the hardware track. TCP is a machine that pours liquids into a glass by signing a smart contract transaction.
AZERO_GG – A token-gated channel system for Discord.
This project, once further developed, will be useful in getting AZERO holders access to exclusive Discord channels.
Handshake – incentivizing conference networking.
The app rewards social interactions during real-life and online events.
Such hackathons bring projects to the network and introduce Aleph Zero to talented developers. This fosters a talent-driven ecosystem, leading to more quality projects built on-chain, if not during hackathons, often later.
ZEROPROOF
The ZEROPROOF party exceeded our expectations, showing that this format makes for a remarkable ecosystem gathering/networking event. We hosted nearly 800 guests on-site!
Here's a short gallery from the event, so you can get a feel for how it was there!