AZERO Hardware Wallet: Nova Integrates With Parity Signer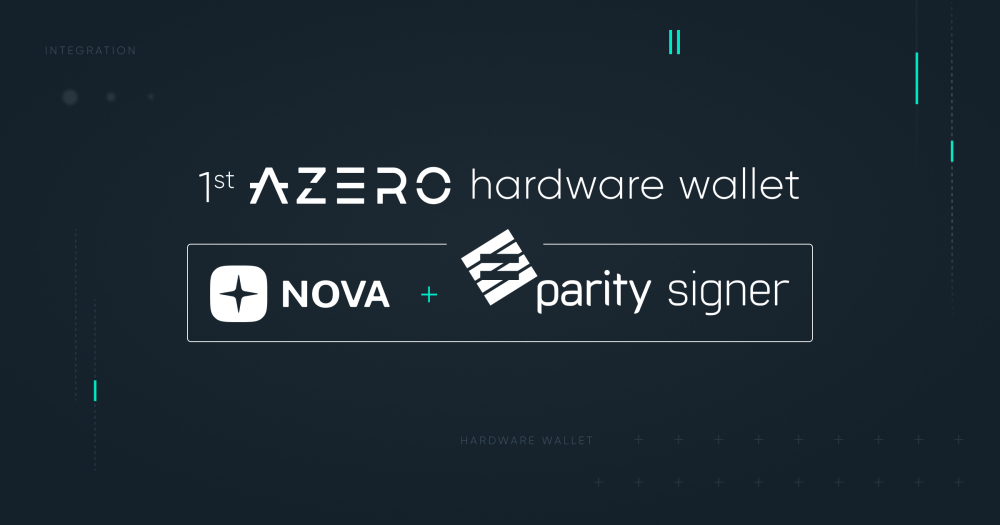 Turn your phone into a hardware wallet thanks to Parity Signer, a novel technological solution that is now accessible through Nova Wallet and, in turn, the Aleph Zero ecosystem.
The idea to reimagine our handheld mobile devices as hardware wallets was developed by Parity in a bid to revolutionize the way we perceive security in the blockchain space. Available for both Android and iOS operating systems, Parity Signer allows you to store your digital assets offline while transactions are signed in an air-gapped way via QR codes. This technology has just been integrated with Nova Wallet and, as a result, allows projects utilizing Substrate, such as Aleph Zero, to benefit from this added security layer.
How to Set Up Parity Signer
To get started with Parity Signer, restore the factory setting on your iOS or Android device. Next, download Signer and switch your phone to airplane mode. Remember to keep your device offline at all times. Once you complete these steps, you will be able to:
Generate and store multiple private keys;
Manage multiple addresses with a single seed phrase;
Back up your seed phrase on paper or by using Banana Split for maximum security.
Executing Transactions
To initiate a transaction, you will need to use a network-connected device with a compatible interface, such as the Polkadot-JS app. Your network-connected device will generate the transaction and its designated QR code. Afterward, use your offline device to scan the QR code.
The final step involves creating a QR code with Parity Signer and using your network-connected device to sign the transaction. Transactions are broadcast to the blockchain while keeping your private keys offline. Remember to verify the transaction details on your Signer device before finalization. Updates to Parity Signer can also be conducted offline through the use of animated QR codes.
For those of us who are visual learners, the Nova Wallet team has created a helpful video that thoroughly explains the process of transforming your phone into a safe haven for your coins and tokens.
Why Use a Hardware Wallet?
Hardware wallets are the most secure way to store your cryptocurrencies and other digital assets as they are safe from the dangers that software security measures face, such as hacking.
We highly recommend you store your private keys securely, and Parity Signer is one of such options as far as hardware wallets are concerned. Additionally, we want to remind our community that Aleph Zero will soon be integrated with Ledger broadening the choices of hardware wallets available for AZERO holders.
About Parity Technologies
Parity Technologies is a core blockchain infrastructure company dedicated to creating an open-source creative commons that will enable people to create better institutions through technology. Initially involved with Ethereum, Parity is currently focused on Substrate, an industry-standard blockchain framework. This framework has been used to build Polkadot, a decentralized web blockchain meta-protocol, securing and connecting crypto-economies to the world.
Join Parity's Community
About Nova Wallet
Nova Wallet is a next-gen iOS/Android application for Polkadot & Kusama ecosystem, which provides support for 40+ networks and assets, NFT, Kusama & Polkadot Crowdloans. DOT/KSM Staking, and DApps (both Substrate & EVM). Nova Wallet is a community-oriented app funded by Kusama Treasury, aiming to provide a convenient, fast, and secure experience on mobile devices.
Join Nova's Community