Router Protocol to integrate Aleph Zero: another step into the multi-chain world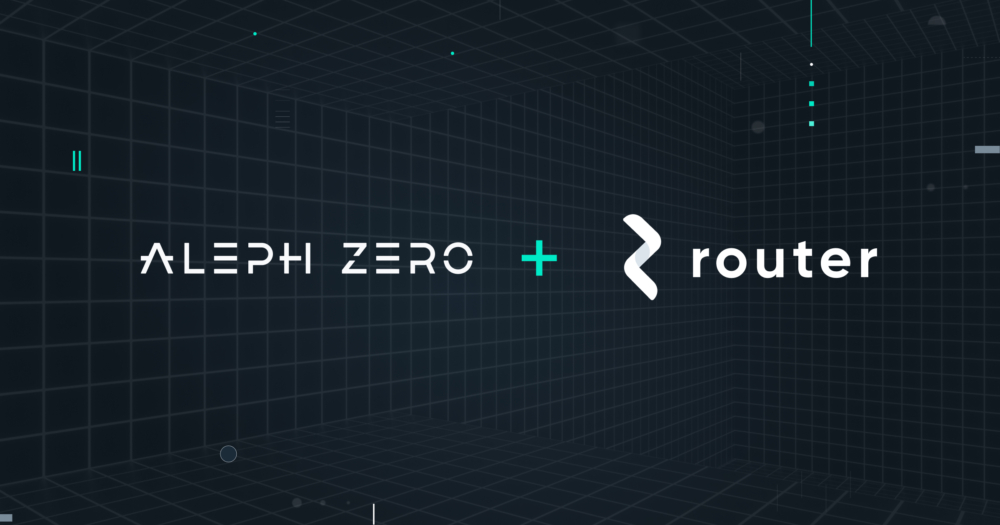 We're thrilled to announce the first partnership with a bridging infrastructure provider for Aleph Zero. Coinbase- and Wintermute-backed Router Protocol will add Aleph Zero as one of its first non-EVM networks.
Router Protocol has begun the integration process of Aleph Zero into their multi-chain infrastructure.
Dive deeper to learn what the benefits are.
What is Router Protocol?
Router Protocol is known for developing an advanced framework that facilitates seamless communication and transactions across different blockchain networks. Router's mission is to address one of the most pressing challenges in the blockchain space: interoperability.
Router Protocol is backed by Coinbase Ventures, QCP Capital, Defi Capital, Mapleblock, Wintermute, Polygon, Shima Capital, and others.
Here are the core features of Router:
Cross-chain communication – Router Protocol enables the transfer of information and assets across various blockchain platforms, breaking down the barriers that have traditionally segmented the blockchain world.
User-centric design – with a focus on user experience, Router Protocol has built a system that is both powerful for developers and accessible for everyday users, ensuring that the complexities of cross-chain transactions are managed behind a simple, intuitive interface.
Scalable infrastructure – Router's technology is designed for scalability, ensuring that as the blockchain ecosystem grows, the infrastructure can effortlessly adapt and expand to meet evolving demands.
Bridging external liquidity and stablecoins to Aleph Zero
By integrating with Router Protocol, Aleph Zero is taking a significant step towards expanding its reach and capabilities, enabling the community to bridge assets between blockchains.
Networks supported by Router include Ethereum, Polygon, Binance Smart Chain, Avalanche, Fantom, Aurora, Kava, Base, Arbitrum, Rootstock, Near, Moonbeam, and Moonriver, with more blockchains to come in the near future.
Cross-chain asset bridging – users will soon be able to effortlessly move their assets between Aleph Zero and other major networks, expanding the horizons of asset management and utilization.
Seamless onboarding of external liquidity – the integration will simplify the process of injecting external liquidity into the Aleph Zero ecosystem, significantly enhancing the platform's capabilities to users and developers.
Stablecoin Bridging – one of the most significant aspects of this integration is the ability to bridge stablecoins to and from the Aleph Zero network. This feature will be a giant leap in establishing a vibrant DeFi ecosystem on Aleph Zero, supported by additional bridges.
Empowering dApp developers
Diversified Asset Portfolio – Aleph Zero users will have access to a broader array of assets, opening up new opportunities for using the network.
Enhanced Liquidity – The seamless transfer of assets and the introduction of stablecoins will result in enhanced liquidity within the Aleph Zero ecosystem.
Ecosystem Growth – This collaboration is set to attract a wider audience, including users and developers, who could be onboarded through the infrastructure.
Empowered Developers and Users – With more tools at their disposal, developers can create innovative DApps, and users can enjoy a richer, more versatile blockchain experience.
What's Next?
Stay tuned as the integration progresses, making the connectivity features available soon, starting with General Messaging Bridge for EVM chains. In the next phase of development, Router will also enable additional monitoring and ease-of-use features, leading to an enhanced asset transfer functionality.
Stay up to date with the progress across our social channels!