Tangem hardware wallet is coming to Aleph Zero!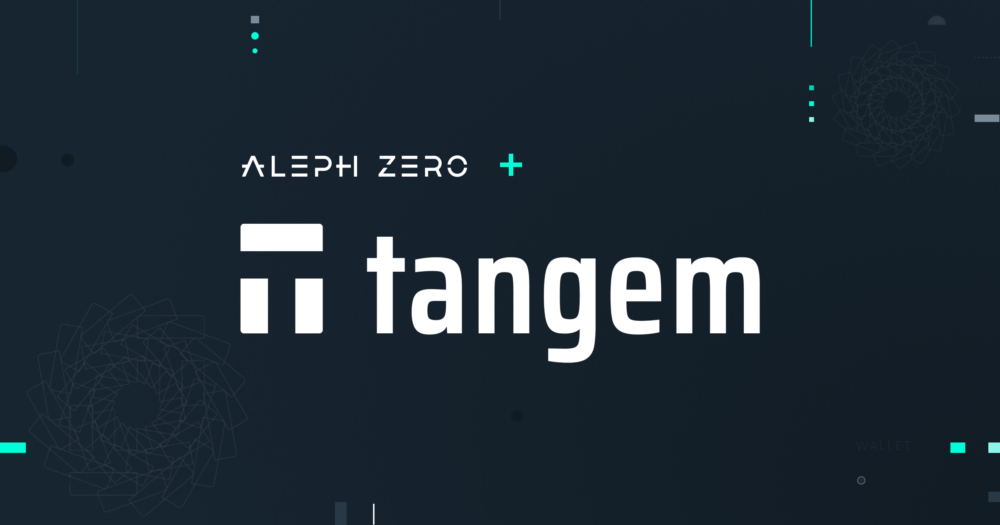 The team behind Tangem Wallet has a unique proposal for the Aleph Zero community to celebrate the integration of AZERO.
The native currency of the Aleph Zero network—AZERO—gets Tangem Wallet support! The Aleph Zero community receives a unique discount code for this occasion:

Enter it at the checkout to receive a 15% discount! The code is limited to only 300 pre-orders. The Tangem team will handle the integration process and the shipping of the wallets once the preorders are exhausted.
Until now, the only hardware solution for storing AZERO has been Parity Signer: an app that can turn mobile devices into offline wallets. This means that Tangem wallet is the first dedicated physical hardware wallet for AZERO!
The initial functionality will allow for storing AZERO and making transfers between wallets. In future releases, the Tangem Wallet team will introduce additional features based on the level of interest from product users!
What is Tangem Wallet?
Tangem Wallet is a credit-card-sized hardware wallet with NFC connectivity that will fit into your cardholder. All you need to use it is an NFC-enabled phone. According to the team, the Tangem app does not collect user data and is open source. You can inspect it on on GitHub.
Tangem's hardware has been independently certified as having the industry-leading EAL6+ standard. According to Tangem, the wallet:
Contains no magnetic elements;
Is protected against EMP, ESD, and X-ray;
Is free of points of vulnerability (batteries, cables);
Boasts water and dust protection (IP68).
Tangem's firmware has been independently audited by Swiss auditing company Kudelski Security (which also happens to support Aleph Zero's Ecosystem Funding Program), with no backdoors found. Account's private key is created on the hardware and never gets exposed.
How to set up Tangem Wallet
Before using your Tangem Wallet, please refer to the guide on Tangem's blog. This collection of useful tutorials published by the Tangem team will help you familiarize yourself with the UI. For starters, check out the following:
Introducing safe ways of storing AZERO
We are looking forward to the Tangem integration and cannot wait for the community to get access to physical hardware wallet solutions that follow the highest cybersecurity standards. This will certainly not be the only hardware wallet solution to integrate with Aleph Zero as Ledger integration gets closer to being finalized. We're also working on bringing other solutions to AZERO holders. Keep an eye on our socials for future updates!

Head over to Tangem's website to get one set and remember to use the AZEROPREORDER code!