DIA Oracle Suite now available on Aleph Zero!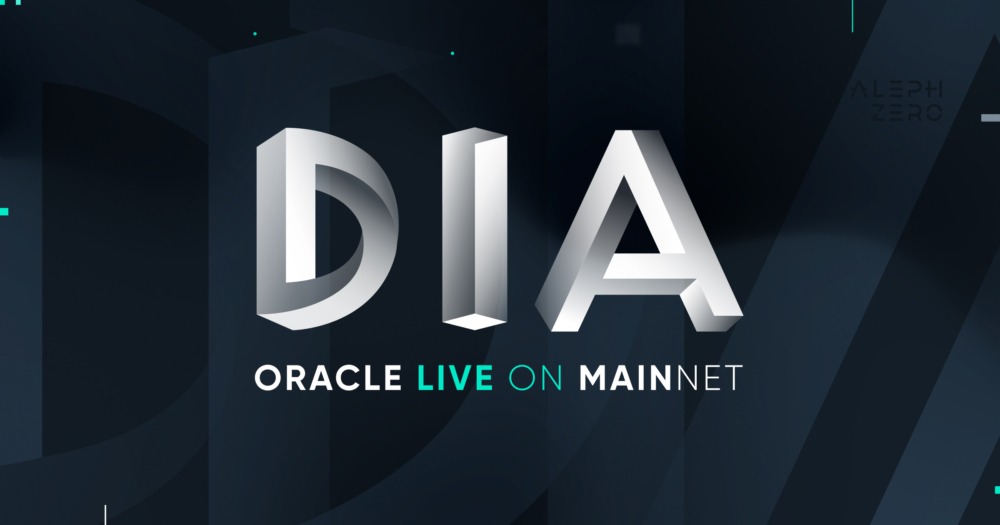 Devs can now take advantage of the token price feeds and randomness oracle.
We are delighted to announce the integration of DIA's cross-chain oracle suite with the Aleph Zero network. This will be the first oracle solution live in the ecosystem, bringing with it an important building block to the Aleph Zero ecosystem and enabling an array of use cases that require reliable external data feeds.
The integration, which is already complete, brings two oracle products to the Aleph Zero ecosystem: DIA Token Price Feeds and DIA xRandom.
Michael Weber, DIA Association President comments:

"We at DIA are thrilled to extend our oracle services to the Aleph Zero ecosystem. The fusion of our comprehensive oracle suite with Aleph Zero's innovative blockchain design signifies a monumental stride towards enabling more secure, efficient, and privacy-focused decentralised applications. Through this integration, we're not only delivering resilient and timely asset price feeds but also introducing a trusted source of on-chain randomness, essential for a myriad of emerging applications in the DeFi, GameFi, and beyond. By opening up a conduit for reliable external data on Aleph Zero, we're moving closer to a decentralized economy where transparency, scalabilty, and innovation are at the core."
The products
Token Price Oracles
DIA's token price oracles deliver real-time price information for a variety of assets (including BTC, ETH, AZERO, USDC, USDT, DOT, SOL, AVAX, EURO, BNB, DOGE, MATIC and DAI). Aggregating trade data from over 80 different sources and using a Moving Average Price with Interquartile Range (MAIR) methodology to compute asset prices, DIA is able to ensure accurate updates that refresh every two minutes. Additionally, the oracle is programmed to update asset prices if there is a deviation of more than 2% from the last reported value, ensuring that displayed prices are as precise as possible.
Randomness Oracle
DIA has also deployed a verifiable and distributed randomness oracle on Aleph Zero called DIA xRandom. Utilising Drand, a distributed randomness beacon daemon written in Golang, DIA xRandom is able to ensure that the random numbers it generates are unbiased and immutable. Such a product has a myriad of use-cases in gaming, lotteries and more.
Test out the oracles
Developers are invited to interact with DIA's oracles via the following smart contracts:
To learn how to use the oracles, developers can access our documentation here.
Enabling innovative use-cases
The integration of DIA's oracle products and the Aleph Zero network is a catalyst for Aleph Zero's adoption. By bringing real-world data feeds to the blockchain, DIA is opening up a world of possibilities for the project.