Aleph Zero Monthly Update: Improvements to the Testnet Validator Mechanics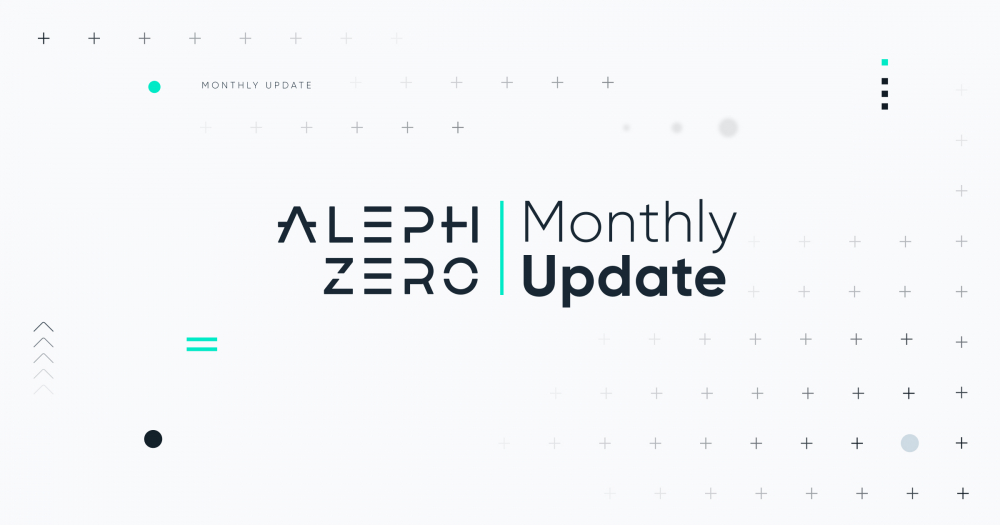 The last two months saw the Aleph Zero team hard at work implementing improvements to the Testnet validator mechanisms, completing the first leg of our fall blockchain conference tour, and collaborating with Supercolony to expedite the development of Substrate. Read on to learn more!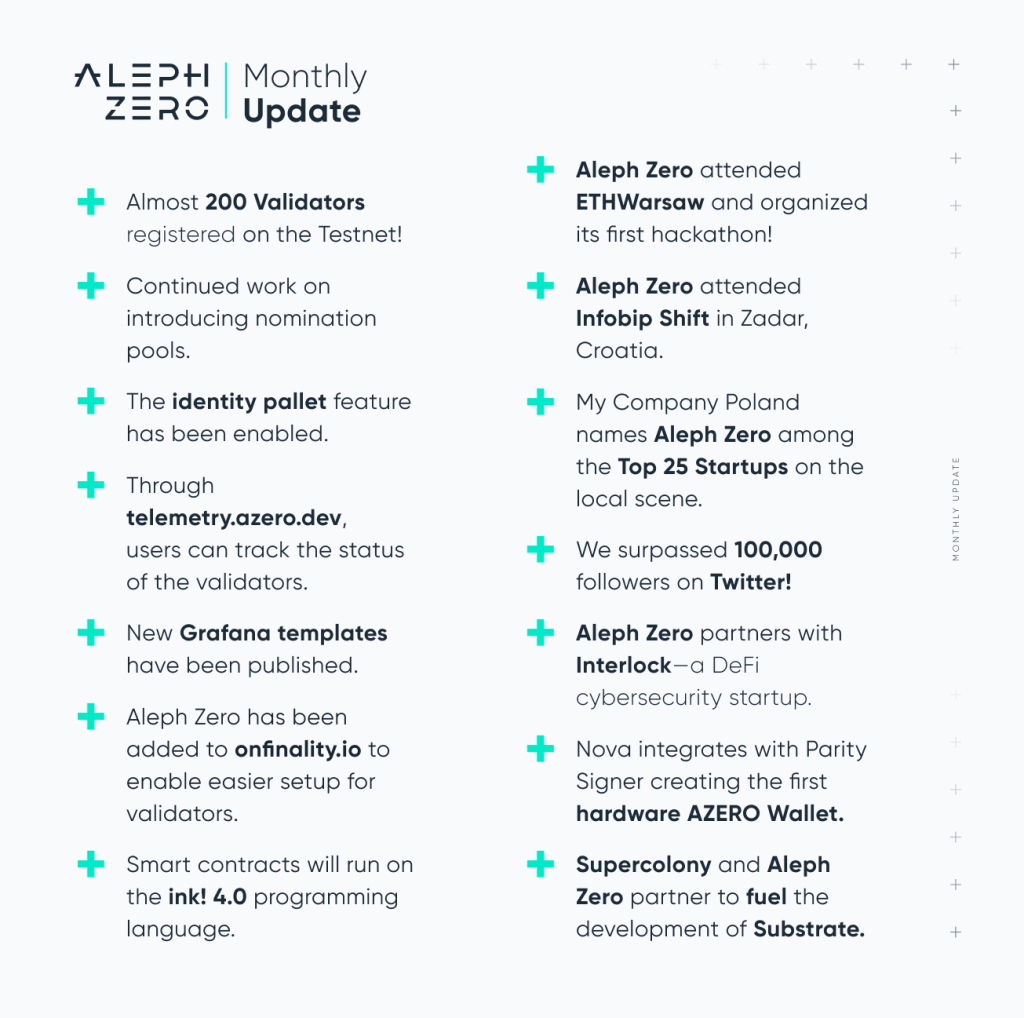 Almost 200 Validators Registered on the Testnet!
The testnet validator program has been running for a month already, which was quite a journey both for us and for our community. Thanks to all the feedback we got from early bird validators and candidates (and currently, there are already almost 200 of them!), we've been able to improve the overall validation and nomination experience for all the actors involved by means of:
Working on nomination pools – the idea is to allow staking also for users owning less than 100 AZERO by allowing nominators to stake in groups in a trustless and non-custodial manner (so each member of the group will still control its funds). This feature is already deployed on our testnet, although we're getting around to finishing the tutorial that will explain how to get started. Expect it soon!
Adding pallet identity, which enables validators to choose names visible in the explorer.
We've introduced https://telemetry.azero.dev to allow users to track the status of the validators in real-time.
New Grafana templates have been published to enable each validator to track more advanced metrics associated with their node. Further improvements to the dashboards are on their way.
We've added Aleph Zero to onfinality.io to enable easier setup for validators.
New tutorials are in the pipeline to cover a broader range of cases.
When Smart Contracts?
With smart contracts being the central value proposition of the chain, the core team finds it more reasonable to wait and implement ink! 4.0, instead of launching with 3.3.1 only for the sake of deploying it a few weeks sooner. Some of the new features that make ink! 4.0, such a powerful instrument includes:
Improvements in contract size optimization have resulted in compiled contracts being smaller in size, which helps reduce storage fees when deploying a new contract.
The entire storage logic has been redesigned to further reduce the space a contract instance occupies on-chain.
Due to these improvements ink! 4 is backward-compatible. Therefore,  we believe it made sense to exercise slightly more patience and release a more fully-fleshed and capable product. 
Aleph Zero On Tour
The Aleph Zero team recently embarked on the first half of our fall crypto conference tour, which took us to Warsaw, Ivrea, Zadar, and Prague. These initiatives proved to be fertile ground for meeting developers, builders, and community members who are enthusiastic about the potential resting in distributed ledger technology.
Aleph Zero at ETHWarsaw
ETHWarsaw was a game-changing conference for the Polish Web3 scene as it revealed to all of us the progress the local community has made in recent years.
Aleph Zero co-founders Adam Gągol and Michał Świętek took an active part in the conference, the former as a keynote speaker, who presented a talk on zero-knowledge proofs, multi-party computations, and privacy in blockchain ecosystems. The latter co-hosted a workshop with Supercolony that revolved around presenting new tools for Solidity developers who are looking to explore the Substrate and Aleph Zero smart contracts.
Also worthy of note is Aleph Zero's Ocean Level sponsorship of this event, proof of our ongoing commitment to supporting the local blockchain community.
ETH Warsaw Hackathon
During the recent ETHWarsaw crypto-conference, we were proud to present the first hackathon sponsored by Aleph Zero. The winner of the main prize was the team behind azero.domains. While the service is currently deployed only on the testnet, it already has more than 10k domains registered! We certainly hope to see its further growth and deployment on the mainnet.
Aleph Zero at Infobip Shift
Bringing together some of the most respectable names in Web2 and Web3, Infobip Shift hosted in Zadar, Croatia, between the 19th and 20th of September, was an incredibly impressive event that boasted six stages, dozens of speakers, 4000 in-person attendees, and 10,000 virtual attendees. The event attracted both experienced Web3 users who were keen to learn more about the Aleph Zero blockchain and fresh faces who were placing their first steps into the exciting world of decentralized ledger technology.
Besides interacting with visitors at the Aleph Zero booth, we also had the privilege to present a keynote speech delivered by Adam Gągol titled "Transaction Privacy vs. Compliance – Technical Aspects of the Dilemma," and a smart contracts workshop hosted by Piotr Moczurad designed to inspire programmers to familiarize themselves with the benefits of Rust, ink!, and WebAssembly (WASM).
Aleph Zero Among the Top 25 Startups
Despite looking outwards towards the global market, we are always grateful when our efforts are validated in our home country. Recently Aleph Zero has been recognized by MyStartup as one of the 25 top startups, according to My Company Poland. We are proud to be listed among such creative and forward-thinking companies as Stonly, Hotailors, Nomagic, and others.
100,000 Followers on Twitter
Recently, our number of followers on Twitter crossed the threshold of 100,000, serving as further validation of the project's progress. As much as we appreciate the support we receive from various institutions and business entities, we prioritize a "community first" mentality and especially value the positive feedback and votes of confidence we receive from our followers on a daily basis.
Aleph Zero Partners With Interlock—A DeFi Cybersecurity Startup
A pressing challenge for all entities operating in the online space is the question of security, which explains why we decided to partner with Interlock, a company dedicated to safeguarding the DeFi space from malevolent actors. The ecosystem Interlock is creating is a decentralized security and intelligence platform whose first application is an anti-phishing and threat-sharing platform that functions as a browser extension. Users will be rewarded with $ILOCK tokens for sharing anonymized information on threats, thus creating a safer internet for all.
Nova Integrates With Parity Signer Creating the First Hardware AZERO Wallet
Turn your phone into a hardware wallet thanks to Parity Signer, a novel technological solution that is now accessible through Nova Wallet and, in turn, the Aleph Zero ecosystem.
The novel idea to reimagine our handheld mobile devices as hardware wallets was developed by Parity in a bid to revolutionize the way we perceive security in the blockchain space. Available for both Android and iOS operating systems, Parity Signer allows you to store your digital assets offline while transactions are signed in an air-gapped way via QR codes. This technology has just been integrated with Nova Wallet and, as a result, allows projects utilizing Substrate, such as Aleph Zero, to benefit from this added security layer.
Supercolony and Aleph Zero Partner to Fuel the Development of Substrate
United through our mutual involvement in the Substrate Builder's Program, we are proud to announce the ongoing cooperation between Supercolony, Aleph Zero, and Cardinal Cryptography. Supercolony is a venture studiо that creates, funds and builds Polkadot, Substrate, and cross-chain companies. Supercolony's goal is ecosystem creation, taking leadership in moving the market forward and making the entrance points for businesses more accessible. To ensure the achievement of this goal, Supercolony not only builds businesses itself but also creates all needed infrastructure. That's why they are working on introducing novel tools and standards for real builders, the most important of which is OpenBrush, a smart contracts library similar to OpenZeppelin. Tools such as this make it easier to onboard new talent into the Substrate ecosystem, a scenario from which we all benefit!